Jones, Beck and Bailey Publish Papers in SAA Journal
---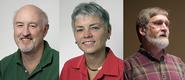 Papers by Professor of Anthropology Tom Jones, Professor of Archaeology Charolotte Beck and Professor of Geosciences David Bailey were published in the April issue of American Antiquity. The quarterly journal is published by the Society for American Archaeology.
In "Reconsidering Paleoarchaic Mobility in the Central Great Basin," Jones, Beck and Bailey, along with Lisa M. Fontes '09 and Rachel A. Horowitz '09, report provenance studies of 12,000 year old stone tools from several Nevada archaeological sites. The study identifies the geologic sources from which stone materials were gathered to make tools. These results can then be used to evaluate the sizes and shapes of conveyance zones—the territories within which these tool materials moved—and whether material conveyance reflects the routes of travels of these early foraging groups. The authors concluded that previous studies of mobility patterns overestimated the sizes of foraging territories in this part of the Great Basin.
In the same issue, Beck and Jones responded to S. Fiedel and J. Morrow's comment on a 2010 article by Beck and Jones. The original paper considered the long-debated question of who the first Americans were. The traditional view holds that pedestrian hunters, using a distinctive stone tool technology known as Clovis, first appeared south of the glacial ice margins 12,500 to 13,000 years ago. Using data from the intermountain area of the western United States, Beck and Jones argued that the earliest human presence in that region did not use Clovis technology but followed a different protocol to manufacture tools, one unlikely to have been derived from Clovis. Fiedel and Morrow took issue with this interpretation, pointing to dating problems and an absence of evidence for alternative models of colonization. In their response, Beck and Jones explored additional evidence to support their position.