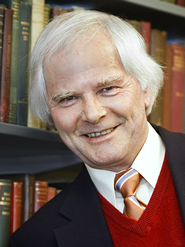 Derek Jones, the Irma M. and Robert D. Morris Professor of Economics, gave a body of work presentation on Jan. 11 at Rutgers University. The keynote presentation was part of The Mid-Year Fellows Workshop in Honor of Louis O. Kelso, held annually by Rutgers' School of Management and Labor Relations.
Jones' discussion of his career's work was focused on his research of diverse though mainly economic issues concerning firms with varying degrees of employee ownership and employee participation.
The talk highlighted Jones' studies of key organizational features of such firms, his analysis of the efficiency of various forms of worker cooperatives, and outcomes for firms with differing degrees of financial participation and employee participation.