Jones Presents Co-Authored Paper in Milan
---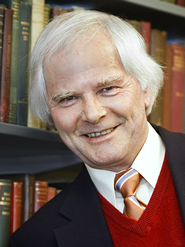 Derek Jones, the Irma M. and Robert D. Morris Professor of Economics, presented "Worker Separation and Sorting Under Performance Pay: A Duration Analysis of Finnish Linked Employer-Employee Data" on June 28 at the Society for the Advancement of Socio-Economics (SASE) conference in Milan, Italy.
Jones co-authored the paper with Panu Kalmi of the University of Vaasa, Colgate University's Takao Kato and Mikko Mäkinen of Aalto University. It was presented as part of a panel on Financial Participation and Profit Sharing.
According to the authors, they analyzed data from Finland and found "consistently for both white-collar and blue-collar workers that performance pay including both group incentive and individual incentive pay is associated with reduced separation probability and hence enhanced employment stability."
Jones spent the spring semester in Helsinki, Finland, where he was a visiting professor of economics at Aalto University's school of business. His position was made possible through a fellowship from the Foundation for Economic Education.