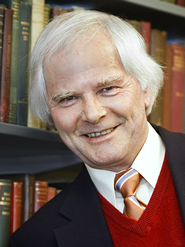 Irma M. and Robert D. Morris Professor of Economics Derek Jones presented "How employment responds to changes in assets at U.S. banks and credit unions" at the Fourth Euricse International Workshop on Cooperative Finance and Sustainable Development held June 20-21 in Trento, Italy.
The paper, co-authored with Associate Professor of Economics Jeffrey Pliskin and Matthew Poterba '12, was an outgrowth of Poterba's senior thesis. Poterba is currently working for NERA Economic Consulting as a research assistant.
According to Jones, the authors tested hypotheses surrounding comparative employment adjustment in cooperative and investor-owned banks. By using a large new panel data set for 1999-2010, they were able to provide evidence of how U.S. commercial banks and credit unions adjust their employment levels to output shocks.
The authors also contrasted the reactions of these firms to positive and negative shocks. Their research showed greater employment resiliency in credit unions – which complements findings in other areas of cooperative resilience during crises.