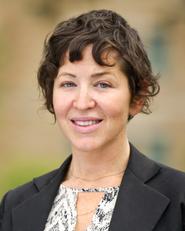 Assistant Professor of Physics Kate Jones-Smith presented "Fractals and the Drip Paintings of Jackson Pollock" on Nov. 18 at Ithaca College in Ithaca, N.Y. Her talk was part of the college's Physics Fall Seminar Series.
She discussed flaws in a hypothesis made by a group of physicists in the late 1990s based on analysis of paintings by abstract expressionist Jackson Pollock. Known as "Fractal Expressionism," the hypothesis said that Pollock's paintings possess unique fractal characteristics and that fractal analysis could be used as an authentication tool for paintings of disputed origin.
Jones-Smith presented an account of the techniques used in fractal analysis and the pitfalls of applying them to Pollock's drip paintings. She also discussed several new findings from the realm of fractal mathematics that were motivated by this work.