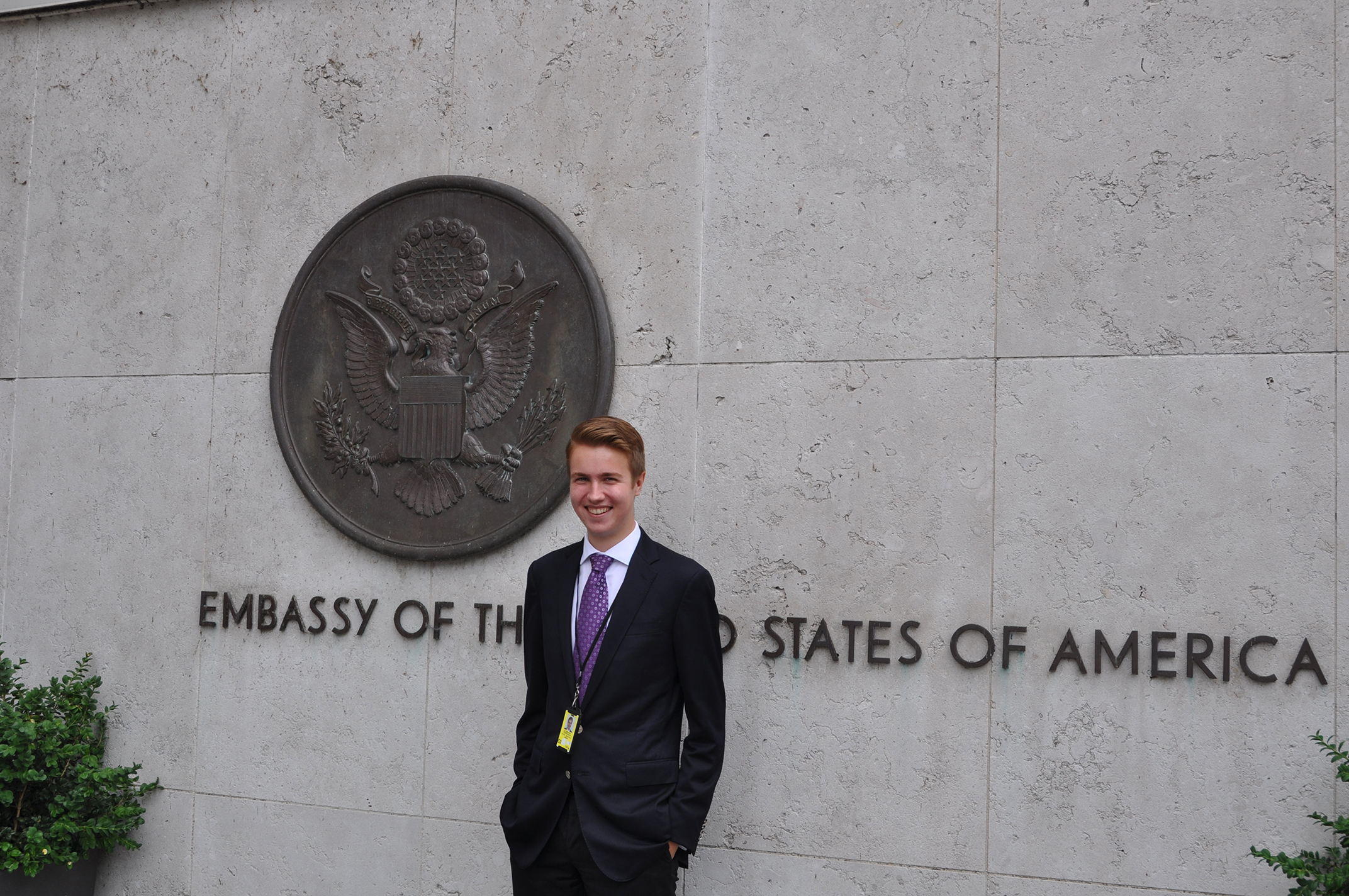 For over two centuries, the United States and Denmark have enjoyed uninterrupted diplomatic relations. Since 1801, Denmark has been a strong ally of the U.S., making it our oldest Scandinavian ally and one of the oldest in Europe. This summer, Peter Jorgensen '16, a world politics major, is interning with the U.S. Foreign Commercial Service (FCS) at the U.S. Embassy in Copenhagen. His internship is supported by the Katharine Eckman '09 Fund.
Jorgensen knew he wanted to work with the FCS, a branch of the Department of Commerce's International Trade Administration dedicated to helping U.S. business thrive in the international market. He applied and was accepted to several FCS offices in Europe and Africa, eventually settling on Copenhagen. He said, "I'd visited the city multiple times before college and was comfortable with Danish culture. My family, being part-Danish, maintains connections to friends in Jutland and Copenhagen, which made it an easy decision."
Jorgensen described the main goal of the Commercial Office, as "[fostering] closer relationships between American and Danish companies. To incentivize American investment in Denmark," he continued, "we provide American companies with assistance in securing business partners, detailed briefs for understanding the Danish market and help with marketing the services of American brands to Danish consumers."
"It's especially interesting from the commercial perspective," said Jorgensen, "because my work has shown me how important personal friendships, built from business relationships, are in expanding an alliance."
As the FCS intern, Jorgensen works on developing these briefs and helps organize events for American brands visiting Denmark. "As a world politics major its fascinating to be on the cutting edge of modern diplomacy," he stated. "Occasionally I'm taken to meetings with one of my bosses, ranging from briefings of the ambassador to meetings with American corporations."
Although many college students might feel out of place among diplomats and ambassadors, Jorgensen said, "it's reassuring to experience how well my Hamilton education has prepared me for the workplace. Thanks to Hamilton I'm confident that my writing exceeds expectations and I'm excited to be able to solve problems with my projects in unique ways."
Jorgensen has not yet decided what he would like to do after graduating; for now, he is looking forward to studying at the London School of Economics and Political Science in the fall.
Peter Jorgensen is a graduate of Walt Whitman High School (Bethesda, Md.).