Belkin '11 Examines Women's Roles in Bollywood Films
---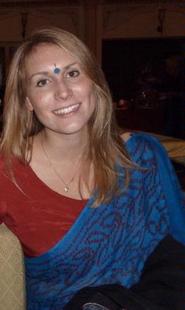 Watching a Bollywood film in India is more like a screening of the Rocky Horror Picture Show than a typical American viewing experience. Viewers participate: they yell, dance and sing along during the three-hour spectacle. But for Kirkland Summer Research Associate Jori Belkin '11, her interest extends far beyond the theater; Belkin is researching the role and perception of women in Bollywood films.

After spending last summer at the South Asia Summer Language Institute (SASLI) in Madison, Wisc., and the fall 2009 semester on Hamilton's program in India, Belkin became obsessed with Bollywood movies. "Many westerners see Bollywood films and laugh—the overdone romance and the musical numbers are too much for them," she said. "People will compare the films to bad Hollywood musicals. But Bollywood has nothing to do with a musical; the style of acting and plot come from ancient Parsi theater." Bollywood movies are notoriously conservative (actors rarely kiss on screen) so a song-and-dance sequence take the place of any obvious physical romance. But despite a lack of Western-style sex scenes, women in Bollywood are highly sexualized and are held to a strict standard of what is feminine, a standard to which Indian women have a complicated relationship.

During her semester in India, Belkin conducted an independent study about young Indian women and their relationshop to women in Bollywood films. She interviewed about 30 women from three different Indian universities about their favorite Bollywood actresses and films as well as their reasons behind these choices. She found that where the women were from most strongly influenced their preference: more "liberal" women who live in urban environments have more international influences, which allows them to enjoy "racy or scandalous love scenes." "In more conservative cities, such as Varanassi, women preferred conservative and traditional Bollywood films, citing family values as what they want to see on screen," Belkin said.

With advice from Associate Professor of History Lisa Trivedi and Edmund A. LeFevre Professor of English Patricia O'Neill, Belkin is back in Mumbai this summer for the release of a film that is a convergence of the past and present, an adaptation of the Ramayana called Ravana. "Ravana is fascinating because… it is different than the Ramayana. Aishwariya Rai, playing Sita [the heroine], makes a different decision that she did in the epic," Belkin said.

By inserting one of India's most important stories in modern culture, the film portrays an interesting perspective on how the role of women has changed since the 8th century B.C. when the Ramayana's oral tradition began. Documenting women's reaction to this change in the established story will further indicate the relationship between real women, female Bollywood characters, and the traditional standard of femininity. She will be interviewing minor actresses, public relations representatives, directors and critics about the film to get a broad scope on the range of opinions in the film industry.

Belkin will also be spending some time in the Bollywood industry itself. She is meeting moguls of the Bengali and other alternative Indian film industries (only a small number of Indian films are considered "Bollywood"; most are local dialectical films or art house cinema), including documentaries. Belkin has met directors and VJs (video DJs) as well as attended a red-carpet premiere. She is immersing herself more in the film industry in order to better analyze the films, women's roles in them, and women's responses to them.

Next spring Belkin will spend the semester in New York City researching the Indian Diaspora and their relationships to Bollywood.

Belkin graduated from the St. Paul Academy & Summit School in St. Paul, Minn.