Jovan Livada '08 Named Third GOLD Scholar
---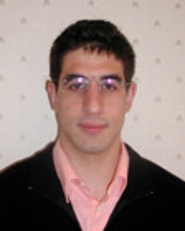 Hamilton College is pleased to name Jovan Livada, a junior from Belgrade, Serbia, as its third GOLD Scholar.
To find Livada, you might search the chemistry laboratories, sports fields, ballroom dancing class, the stage, or the Writing and Oral Communications centers … unless, of course, you were looking for him this past fall, in which case he was on the water enrolled in Boston University's Semester at Sea program. Livada, a junior from Belgrade, Serbia, is the paradigmatic multi-talented Hamilton student.
If you speak with Livada, you quickly understand how much the study of chemistry is a part of his life. Last fall, an article he co-authored was published in the Journal of Physical Chemistry A, which reported on collaborative research he conducted the preceding summer with Winslow Professor of Chemistry George Shields, Visiting Assistant Professor of Chemistry Karl Kirschner and fellow student Marco Allodi '08. Livada also spent the summer of 2005 on the Hill working with the two professors on their ongoing enediyne anti-cancer project. Livada is fortunate to be able to study in the new state-of-the-art Science Center, where he has access to "every possible modern tool. I can't believe I can work with a $1 million piece of equipment."
While Livada plans to go on to graduate school in chemistry, he has not limited himself to this field of study. Courses such as History and Philosophy of Rhetoric, taught by Visiting Professor of Communications John Adams, have made him "a person who thinks more," and he appreciates the ability to see the world from a different perspective as a result of taking Introduction to Women's Studies, taught by The Elihu Root Peace Fund Associate Professor of Women's Studies Vivyan Adair. In addition to understanding culture more deeply, Livada lauds Adair's approach. "She did not place her opinions on us; instead, she presented the theories as alternatives."
During his time at Hamilton, Livada has also found his voice in a very real way — he discovered his love for theater and performance while taking courses with Associate Professor of Theatre Mark Cryer. Livada describes these as "breakthroughs." "I had such clarity; I was there." This spring he is honing his breathing, rhythm and voice work through the study of Shakespeare and plans to audition for Hamilton's two mainstage productions next year. Away from the stage, he is an Oral Communications Center tutor, a position for which he is well suited after having won the McKinney (Speaking) Prize his freshman year.
Livada lives a "healthy body, healthy mind" philosophy, complementing his academic training with physical training. In his sophomore year, he played rugby, and high jumped and threw discus for the men's track and field team. He has also competed in Hamilton's triathlon, HamTrek. Friday afternoons are his less strenuous days, when you will find him with the Ballroom Dancing Club, a campus group he founded two years ago.
Beyond his academics and extracurricular activities, Livada enhances the campus community with his good nature, diligence, respect for others and willingness to challenge convention. Lecturer in Oral Communication and Oral Communication lab coordinator James Helmer said, "There used to be something here known as the 'Hamilton cool,' but Jovan is working to replace it with warmth, genuineness and hard work. He is full of enthusiasm and quick to smile."
Livada is thrilled about his Hamilton experience. As a high school senior in Serbia, he wanted to attend a small, liberal arts school, and Hamilton delivered. "The best thing about Hamilton is its professors. While they have office hours, they will also be there early for you and they will stay late. Hamilton students have access to impressive facilities, but the professors are what make our education what it is."
GOLD Scholars is an initiative supported by the Annual Fund, which has always provided direct support for the College's most important current priorities, especially scholarship aid. Starting this year, gifts from the GOLD Group – Graduates of the Last Decade – will specifically support students on campus. With each $15,000 increment collectively contributed, the College will select a student as a GOLD Scholar for 2006-07.