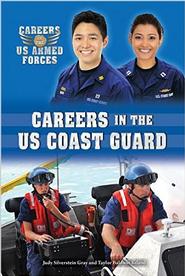 Judy Silverstein Gray K'78, has published a book titled Careers in the US Coast Guard. For two decades, she worked as a journalist and recently retired after a 31-year career as a United States Coast Guard public affairs reservist covering natural and man-made disasters and humanitarian rescues. She has also written a number of documentary film scripts, and has been a contributor to the Poynter Institute for Media Studies. Currently, she works in disaster preparedness for the Florida Department of Health with vulnerable and underserved populations. Concurrently, she is pursuing a master's in public health with an emphasis on infectious disease prevention at the Milken Institute at the George Washington University.
Gray co-chairs the Florida regional alumni group and, in 2014, contributed to Lost Orchard, an anthology of creative non-fiction written by Kirkland College alumnae, faculty and staff. This is her second book for younger readers in a series on military careers.
The Enslow Publishing website offers this description of her latest book: "The United States Coast Guard is often the first line of defense against attacks at sea. They are also the first call if there is a hurricane or a flood. A career in the Coast Guard promises adventure, and working with diverse groups of people…" Gray says she was proud to cover daring rescue efforts by fellow Coast Guardsmen and women. Enslow has recently hired Gray and her co-author and friend, Taylor Baldwin Kiland (a Naval Academy grad), to write a six book series about military engineering. Topics will include drones, biosecurity, rockets, satellites, and cybersecurity.
At Kirkland, Gray studied Art History, played field hockey and lacrosse, and has since served the college in a variety of roles. They included work as founding chair of the Kirkland Archives, Media and Publication Committee and as co-chair of Hamilton's Bicentennial. She has dedicated much of her life to public service, earning a number of awards for both humanitarian service and her writing. Currently, she serves on both the International Health and Preparedness Committees of the American Public Health Association, and has also served on the boards of Florida Pro Musica, The American Association of Healthcare Writers, USF Women in Philanthropy, Keep Tampa Bay Beautiful, and Morningstar School-Tampa. An outdoors enthusiast, Gray worked 10 years as a national park ranger. She and her husband Rich share a passion for backpacking, kayaking, and the arts, and serve as volunteers on remote medical missions.