Julia Hysell '04 To Hold Workshop on the Work of Kerouac and Snyder
---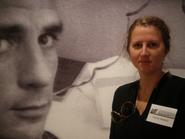 Julia Hysell '04, a library assistant at Teton County Library in Jackson, WY, will be hosting a two-evening workshop titled "Gary Snyder, Dharma Bums & the Coming Revolution" on Feb. 6 and March 5. Hysell researched the influence of Buddhist scripture and poetry on Jack Kerouac's book The Dharma Bums for her senior thesis under Walcott-Bartlett Professor of Religion Jay G. Williams '54 and Bates and Benjamin Professor of Classical and Religious Studies Richard Seager while she was at Hamilton. She is currently working on a manuscript for a book chronicling her literary exploration of The Dharma Bums. Her research has extended over nearly ten years as she "started digging and started to find the real people behind the characters and the real places behind the spots used in the book."

Hysell was inspired to hold the workshop after coordinating the effort to bring Pulitzer-prize winning poet Gary Snyder to Teton County Library as the next speaker for their Page to Podium series. Snyder was the model for the main character Japhy Ryder in The Dharma Bums.

The workshop will explore the revolutionary ideas found in both Kerouac's and Snyder's work. "Ryder bucks the societal norms of consumption and production just for the sake of consuming and producing," Hysell explained, "preferring to place value in nature, necessity, and devotion to spiritual practices."

The 14 slots for the workshop filled a week after it was announced, and a waitlist is being collected for a possible second workshop. Contact the library's adult humanities coordinator Oona Doherty at 733-2164 ext. 135 or odoherty@tclib.org for more information.

Hamilton students interested in exploring some of the ideas from Hysell's research can take Rel St 225 with Professor Seager, who has incorporated some of her sources into the course.

Hysell majored in English literature and religious studies.