Junior Year in France Students Cheer on Kyle Roulston '09 at Hockey Game
---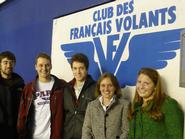 Members of the Hamilton College Junior Year in France recently went to the Sonja Helle Ice Rink at Bercy Stadium in Paris to cheer on Kyle Roulston '09, the newest member of the Paris hockey team, Les Français Volants. With the help of Norm Bazin, Hamilton's men's ice hockey coach, Roulston joined a team that travelled to Europe this past summer looking to place North Americans in the European hockey system. Offered a spot on a team in Bad Tolz, Germany, and in Paris, Roulston jumped at the chance to play in the French capital.

Having majored in French and economics at Hamilton, Roulston had been unable to study abroad during his years at the College because of his commitment to hockey. As Roulston said, "Being in Paris, being paid to play a game I love, and finally to be able to take in the culture and sights is a dream come true."

Hamilton juniors Dan Kamentesky, Peter Lisle, Danielle Forsyth, Kylie Fraser, and this year's Hamilton Junior Year in France director, Associate Professor of French Cheryl Morgan, watched the "Flying French" suffer a disappointing loss but enjoyed a bite to eat with Roulston after the game. Word has spread and the next home game in Paris will bring out even more supporters for the Hamilton graduate who is now finally having his year abroad experience.