Kate Arpino '10 Publishes in Journal of Luminescence
---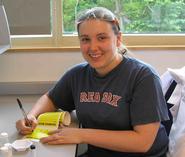 An article by Kate Arpino '10, "Post Annealing Immersion: a new technique for studying rare earth ions in porous materials," was published online by the Journal of Luminescence.
Arpino majored in chemical physics and minored in comparative literature. She is currently starting a Ph.D. program, also in chemical physics, at Columbia University.
Arpino's paper describes work she did for her senior thesis project in Professor Ann Silversmith's lab. She studied a new technique "Post Annealing Immersion" which allowed her to study how rare earth dopant ions are located in a porous sol-gel matrix.