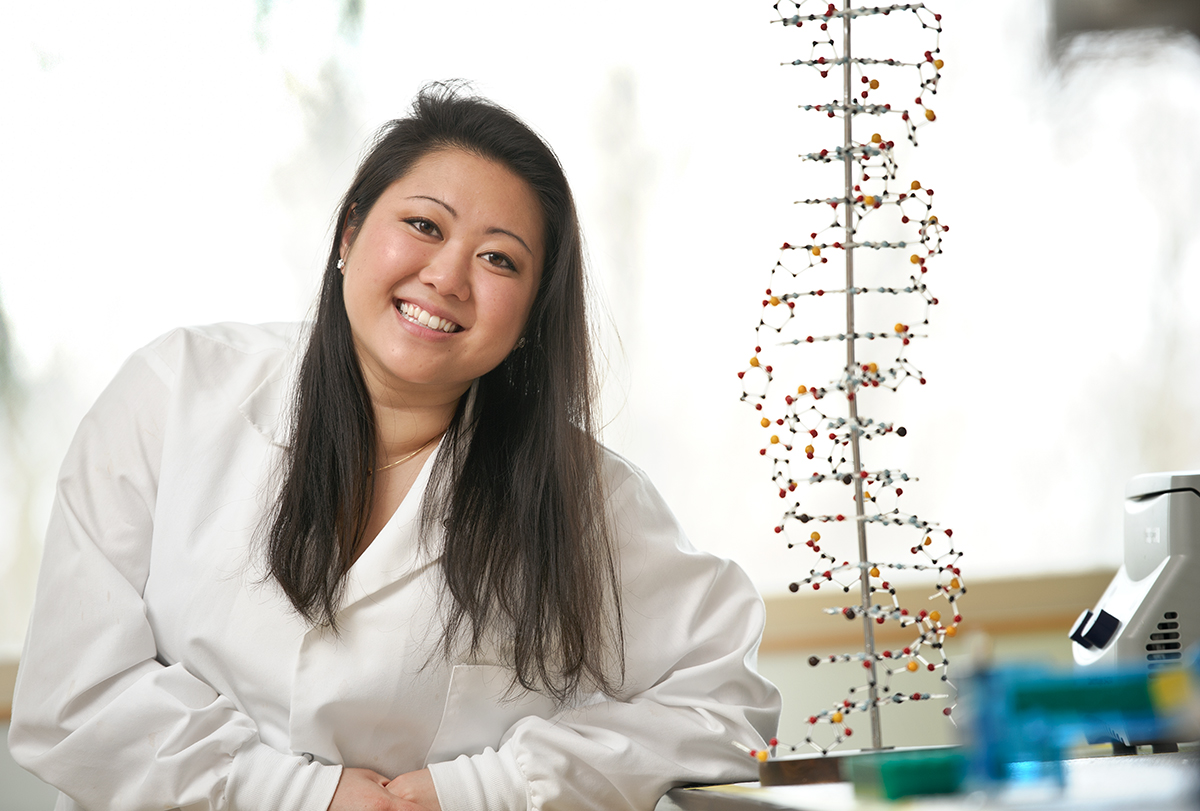 Since the discovery of the double helix structure of DNA in 1953, the study and the understanding of genetics has grown exponentially. Gene therapy, the Human Genome Project, and "designer babies" exhibit the growing interest and relevance of genetics on modern society. Kari Koga '15, a biology major, has had the opportunity to explore her passion for genetics research for the past three summers with Evolutionary Genomics.
Koga began her work at Evolutionary Genomics in 2012, following her first year at Hamilton. She was excited to gain laboratory experience, as well as remain close to her family in Colorado. In fact, her father, Tepper Mark Koga, also worked for Evolutionary Genomics and "was one of the influences that led to [her] passion in science and research."
Koga, who began as an unpaid intern using basic techniques like polymerase chain reactions (PCR) and electrophoresis gels, was quickly promoted to a research assistant and taught how to clone, sequence and align candidate gene sequences. Given the small size of the organization, Koga was able to work closely with her father, an experience for which she is grateful.
With her colleagues from Evolutionary Genomics, Koga recently published a paper in the African Journal of Biotechnology. The paper focuses on Manihot esculenta, also known as cassava, a starchy root-like plant that is native to South America. Due to its ability to withstand long periods of drought and high carbohydrate content, cassava has become a staple in African countries as well.
Unfortunately, cassava is being threatened by brown streak virus disease, which renders the tubers inedible. However, some strains are resistant to the disease, providing hope that the blight may be curtailed -- the topic of their research paper.
"I got to watch as the paper evolved," Koga commented, "I felt special being included in creating [it] and getting it published." This is not an expedient process though; "We didn't get published in the first journal we submitted [the paper] to. A lot of journals are very specific and sometimes the subject just doesn't fit," she added.
Koga appreciates this career-related experience: "It's exciting, as an undergraduate, to have a hand in something that has been published, I'm very lucky." The position also "gave [her] a leg up with techniques," gaining "familiarity with practices and terminology" in the field. This "makes it easier to get [the reaction] right the first time and learn how to problem-solve by seeing the professionals," she explained.
Hamilton also played a role in her quick adjustment to laboratory work by teaching her how to conduct research of related literature, the procedures for certain experiments, and offering her new ideas to bring to the team. "We would have small group meetings every day," she said, "in order to see how the various aspects of the project were going, to address potential or encountered issues, and to brainstorm solutions."
Koga is also involved with genetics research at Hamilton. In conjunction with Michael McCormick, associate professor of biology, she is conducting a senior thesis that is focused on genetic analysis of the sub-chemocline biofilm in Green Lake. This work involves microbial genetics, while her work at Evolutionary Genomics was focused on the genes of plants. In the future, she would like to conduct research with vertebrates.
Koga is currently pursuing a post-baccalaureate cancer research program with the National Institute of Health. Apart from embodying her work at Evolutionary Genomics, the research paper has added significance for Koga. "It was my father's last published work and is my first; now that he is gone it is something that I will truly cherish for the rest of my life," she commented. Tepper passed away on February 12, 2015.
An abstract and the full paper can be found here.