Kartography
---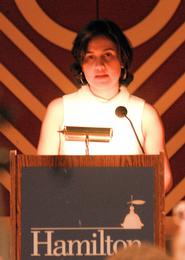 According to www.barnesandnoble.com: From the Publisher-Crib mates, raised together from birth, narrator Raheen and her best friend Karim dream each other's dreams, finish each other's sentences, speak in a language of anagrams. They share an idyllic childhood in upper-class Karachi with parents who are also best friends, even once engaged to the other until they rematched in what they jokingly call "the fiancee swap." The night Karim's family migrates from Karachi to London, Raheen knows that "some of my tears were his tears and some of his tears were mine." But as distance and adolescence split them apart, Karim takes refuge in the rationality of maps while Raheen searches for the secret behind her parents' exchange. What she uncovers takes us back two decades to reveal a story not just of a family's turbulent history but that of a country--and brings us forward to a grown-up Raheen and Karim drawn back to each other in the city that is their true home.
Introduction

(www.barnesandnoble.com)The globe spins. Mountain ranges skim my fingers; there is static above the Arabian Sea. Pakistan is split in two, but undivided. This world is out of date.
Rain outside. If it reaches Karachi, the waves will swell further. The airport, though, is inland. From there to here is no distance at all if you look at the map of the world. But distance is not about miles and kilometres, it is about fear. Who said that? Someone who wasn't married to a pilot, I'd guess. I unscrew a jar of ink. Scent of smudged words and metal fills the air.
Do all tentacled creatures produce ink, Raheen? Does the cuttlefish? Can you write on the waves with cuttleink?
I close my eyes, and wrap my fingers around a diamond-shaped bone. I still hear the world spinning. I spin with it, spin into a garden. At dusk. And yes, those are shoulder pads stitched into my shirt.
Reviews
Kirkus reviews from www.barnesandnoble.com.
"In its artful uncovering of how people hide from themselves and one another, Shamsie's tale partially echoes Arundhati Roy's The God of Small Things".