Otley '12 Discovers the Challenges of Synthesizing Molecules
---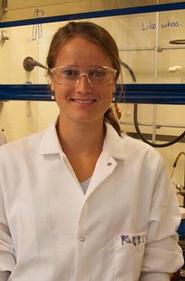 Deep in the bowels of the Science Center, Assistant Professor of Chemistry Camille Y. Jones labored away at the project that has become her White Whale: unlocking the secrets of the
clathrate hydrates
(molecules that form cage-like structures around various guest molecules). But as she ran the spectroscopy on the clathrates, she found the resulting spectra to be extremely complex—too complex to be interpreted. In order to facilitate Jones' research, Kate Otley '12, working under Associate Professor of Chemistry Ian Rosenstein, is spending her summer replacing some of the troublesome hydrogen atoms with its isotope, deuterium.
Because deuterium is an isotope of hydrogen, the two are distinguishable in their spectra, but deuterium still has the same chemical properties and is able to bond the way hydrogen does. It is this quality in deuterium that made it a good choice for a hydrogen substitute in the clathrate structure.
Past student researchers have attempted to replace the particular hydrogen atoms with deuterium, but each method they tried has failed. "Now we're trying a whole new route," Otley said excitedly. This time around, she is starting with a different commercially available material and adding on the hydrogen and deuterium atoms as needed to create the desired molecule. By changing the starting material, Otley and Professor Rosenstein hope to have more success in synthesizing their molecule.
Otley's summer research was funded through the Edward and Virginia Taylor Fund for Student/Faculty Research in Chemistry, established in 2008 through a gift from Ted '46 and Virginia to inspire students interested in chemical research and to facilitate their work with outstanding faculty.
A chemistry major, Otley is a member of the Hamilton women's lacrosse team and is also a tour guide. She also enjoys skiing and snowboarding, although she will not be doing much of either of those in these summer months.
Kate Otley is a graduate of Greely High School (Cumberland, Maine).