Katharine Dilyard '10 Awarded Fulbright English Teaching Assistantship to Russia
---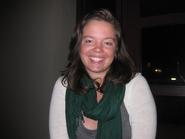 Katharine Dilyard '10, a candidate for May graduation from Hamilton, has been awarded a Fulbright English Teaching Assistantship (ETA) to Russia. Dilyard is a world politics and Russian studies major at Hamilton.

Dilyard spent the summer and fall of 2009 in Saint Petersburg, Russia, through the American Councils for Teachers of Russian Study Abroad program. She also studied there in spring 2009 through the Bard-Smolny study abroad program. Dilyard has been an English teacher for Project SHINE in Utica, a program where volunteers teach English to immigrants and refugees to prepare them for the citizenship test. She has also served as a Russian teaching assistant at Hamilton, and served as an English tutor in Russia during her study abroad there.

After completion of the Fulbright Grant she plans to continue her study of Russian language and international relations and hopes to use her experiences in order to work in public policy.

The Fulbright ETA Program, an element of the Fulbright U.S. Student Program, places U.S. students as English teaching assistants in schools or universities overseas, thus improving foreign students' English language abilities and knowledge of the United States while increasing their own language skills and knowledge of the host country. ETAs may also pursue individual study/research plans in addition to their teaching responsibilities.

Sponsored by the U.S. Department of State, the Fulbright program is the largest U.S. international exchange program offering opportunities for students, scholars, and professionals to undertake international graduate study, advanced research, university teaching, and teaching in elementary and secondary schools worldwide.

Dilyard is a graduate of Millburn (N.J.) High School.