Katherine Steigerwald '07 Creates Painting Focused on Classical Ballerina
---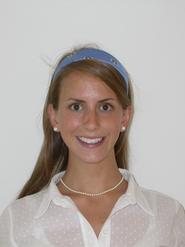 Paint what you know is the maxim and Katharine Steigerwald '07 (Fayetteville, N.Y.) is taking that advice. An artist and dancer, her summer research focused on the ballerina as a figure. Her project, "Classical Ballet and the Figure, a Study in Painting," will be expressed as four large paintings and a paper on the experience of creating the project. With this work, Steigerwald hopes to "render the figure of the classical ballet dancer in painting in a way that causes ordinary people to be able to relate to the experience of dance."
Steigerwald usually paints landscapes and still lifes. Her project for the summer, an intensive study of the human figure, was conceived as a self-challenge and an effort to "broaden [her] horizons." Steigerwald explained that figures are tricky by any standard. "The difficult thing about painting," she said, "is that the viewer's eye [must] believe what they're looking at." An audience will be more critical of figures because "they [the audience] are figures themselves."
A double major in art and government, Steigerwald spent last summer in Washington, D.C. as an intern with New York Congressman Sherwood Boehlert. This summer, however, she wanted an intensive art experience. "I really just wanted to paint and draw," she said.
She is working with oil-color on canvas to produce four large paintings, based on six weeks worth of sketching. She worked three hours a week with a live model and also worked from her own memory. Steigerwald also spent a significant amount of time in observing and sketching dancers in class at the Center of Ballet and Dance Arts in Syracuse, N.Y.
Steigerwald did not choose her subject matter by chance. A dancer herself, she was well aware of the unique figure of the ballerina. "The ballet dancer's figure is of particular interest to me because its form is imitable," she explained in her grant proposal. "Ballerinas have an incredibly unique, well-defined muscle structure and a sophisticated ability to use their bodies in such a way as to produce art through movement."
It was this ability to create art through movement which attracted Steigerwald to the dancer's figure. Her final installation, she hopes, will communicate to viewers not only the sense of the figure, but of the experience of performing. "The paintings will emphasize the ballet dancer's strength, grace and beauty as a subject and form of art," she explained.
Although many of her peers will expand their summer research into a senior thesis, Steigerwald is unsure if she wants to use the figure as hers, and is considering returning to landscapes. She will, however, have a show of her summer during the fall semester.
For someone who takes on a summer project to improve one's technical skills, the question is always, did you learn what you wanted to? Steigerwald answered yes. "I've definitely seen improvement in my own work," she said. "I've been challenged in ways I wasn't expecting to be."
Steigerwald is active on the Hill as a volunteer and a worker with Project Shine. Her research is funded by the Emerson Foundation Grant Program, which allows students to work closely with a faculty member researching in depth an area of the student's interest.
-- Lisbeth Redfield