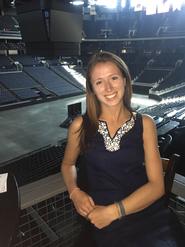 Katherine White '16 spends a lot of her free time in ice hockey rinks. At Hamilton, she plays goalie on the men's club hockey team and works as the play-by-play announcer for both the men's and women's ice hockey teams. As she says, her winters "revolve mostly around playing and working in hockey." This year, her summer has revolved around hockey too. With funding from the Summer Internship Support Fund, she is working as a public relations intern for the Columbus Blue Jackets in Ohio.
White knew going into the summer that she wanted to work in sports communication. She connected with J.D. Kershaw '90, the VP of marketing at the Blue Jackets, and after an interview, she had an internship in public relations for the ice hockey team. The department has involved her in many different tasks. Her main project has been updating the team's media guide for the upcoming season, including updating team and player statistics, community development pages, and employee bios. She has also assisted with the team's draft party, attended player appearances, written press releases, and worked with the press. With a group of interns, she is working to develop strategies to help the Blue Jackets grow their millennial fan base in Columbus.
White has found the internship highly rewarding. The Blue Jackets team was founded just 15 years ago, and they are still developing their fan base in Columbus and elsewhere in Ohio. This makes the team's press and media coverage particularly important. White commented, "While it is also the most difficult part of my internship, helping to increase the fan base in Columbus has been one the most rewarding parts as well." White now counts herself as a fan, saying that she's now "almost as big" a fan of the Blue Jackets as she is of the Bruins from her native Boston.
White also found her internship to provide invaluable experience as she moves into her senior year and approaches the post-graduation job search. She reported, "I have met so many valuable contacts who have helped me this summer throughout my internship, answering questions and giving me advice for the future." White plans to work in sports communication after she graduates and will build on her experience with the Blue Jackets. Whether on or off the ice, it seems that White will continue to excel in the sports world.