Ke Xu '11 and Chang Publish Article in Gene
---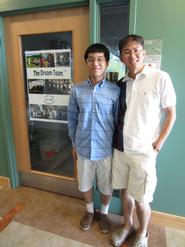 Associate Professor of Biology Wei-Jen Chang and Ke Xu '11 were among authors of an article published in the journal Gene. The article, "Copy number variations of 11 macronuclear chromosomes and their gene expression in Oxytricha trifallax," appeared in Gene, Volume 505, Issue 1, 15 August 2012, Pages 75-80. Xu majored in biochemistry and mathematics at Hamilton and is now a research technician at the Molecular Cytology Core Facility in Memorial Sloan Kettering Cancer Center.
In eukaryotic cells gene expression is tightly controlled. When gene copy numbers change, a phenomenon found frequently in cancer cells, levels of gene expression are affected and the imbalance often leads to changes on phenotypes. In the small protozoan, Oxytricha trifallax, somatic DNA is highly fragmented and genes are present in different copy numbers. Therefore this organism serves as an ideal model organism to study the correlation between gene copy numbers and levels of gene expression.
Xu and Chang used a technique called quantitative real-time PCR to measure both copy numbers and expression levels of 11 genes in two populations of O. trifallax. They found that the gene copy numbers did positively correlate to gene expression in this organism. In addition, gene copy numbers differed significantly in the two Oxytricha populations, suggesting that this protist may adapt to its environment by changing gene copy numbers.
This work also involved collaborators from Princeton and Indiana University, and Universitat Witten/Herdecke in Germany. Hamilton alumni Zachariah S. Reich '08, Tongxin Lu '11, and Jiong Chen '10 were acknowledged for their contribution to the project.