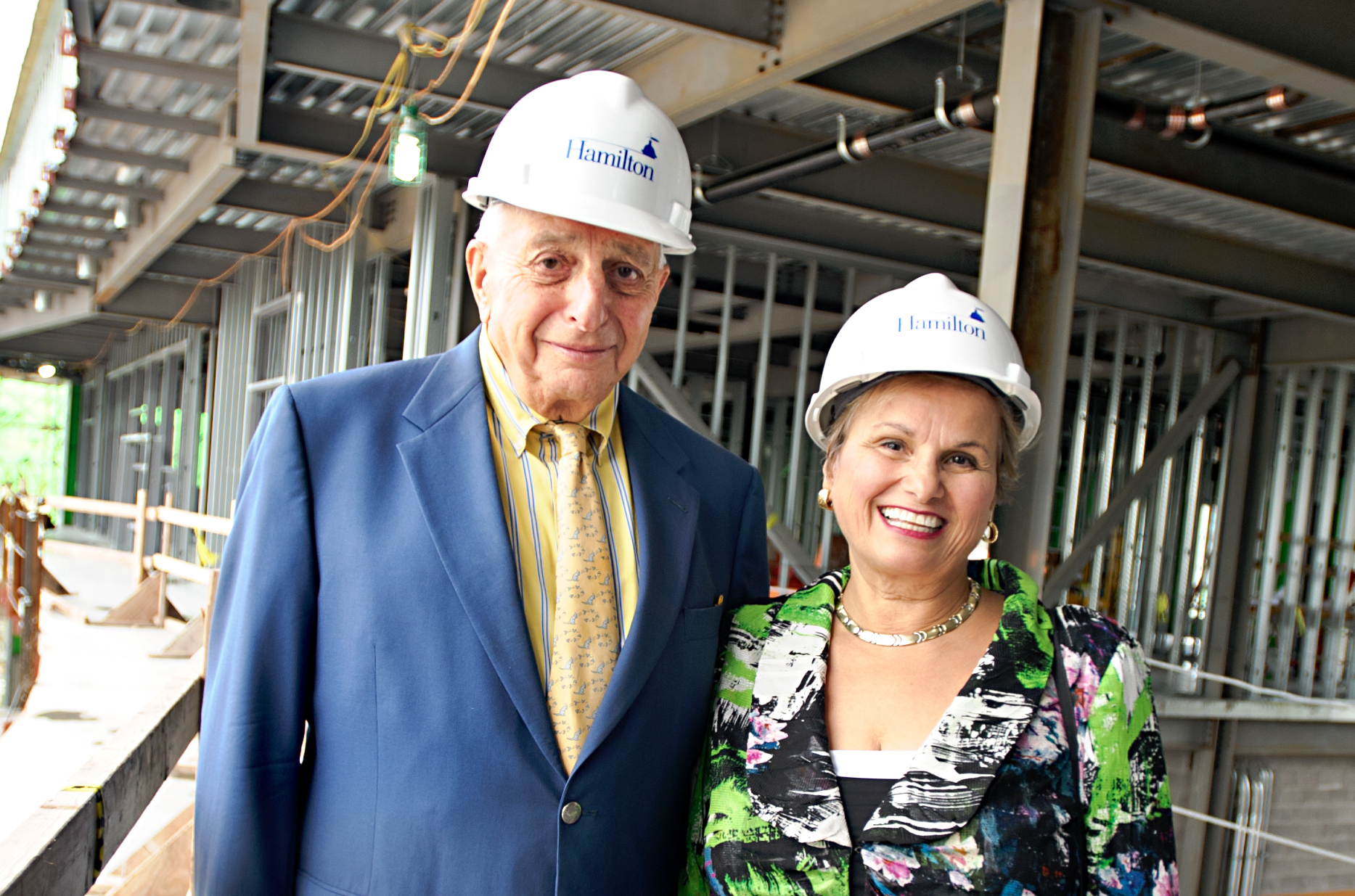 Hamilton will name its 175-seat theatre in the new Kevin and Karen Kennedy Center for Theatre and the Studio Arts for F. Eugene Romano '49 in recognition of his lifetime giving which includes a $2.5 million donation for the center's theatre. His was one of the earliest gifts directed to the project.
"I am honored to receive this recognition," Romano said. "I only wish my father were alive; he was given a scholarship to attend Hamilton but chose to go to work instead. He so wanted me to go here that he started to fill out the application for me. He would be thrilled if he knew I was being honored by Hamilton."
Romano and his wife, Loretta, together with their family, have dedicated much of their lives to improving the Mohawk Valley through their Utica-based businesses and their philanthropy to numerous local non-profit organizations. "Loretta and Gene Romano have been visionary supporters of the community," said President Joan Hinde Stewart. "Gene has demonstrated his generosity and his dedication to Hamilton's mission over many years."
Although as a student at Hamilton Romano majored in American studies, he has been engaged in the arts since childhood, and his support for the theatre program was influenced by his passion for the performing arts. A self-described opera buff, Romano has been a substantial investor in Neil Simon plays and a few Broadway musicals including "Jerome Robbins' Broadway," which earned 12 Tony Awards in 1989.
When Romano first spoke with Stewart about the project several years ago, he was particularly interested in plans to include spaces for "every supportive task necessary to produce a play or musical in one center, something I thought about 50 years ago." Romano also wanted to support the new theatre because he remembers the performance constraints that the theatre department dealt with when he was a student. He recalled friends who were theatre majors, rehearsing throughout a semester only to present a production "two or three times in a small space. They did a fantastic job, but I thought, 'what a waste' – so few people had the opportunity to see them perform. I was very happy to see that the design for the center included space for the construction of scenery, costumes, lighting design and so on."
The Romano Theatre, the larger of the center's two theatres, combines elements of a flexible, "black box" theatre with distinctive permanent architectural features, lending the space its own character. The philosophy behind the theatre's design was to "blend flexibility and character," according to Craig Latrell, professor and chair of the Theatre Department. "As we at Hamilton produce a variety of performance pieces from different cultures, eras, et cetera, the space had to be readily adaptable." Latrell gives credit to theatre consulting firm Fisher Dachs Associates for their collaborative work, ensuring that the theatre department's vision became a reality. Machado and Silvetti Associates Architecture and Urban Design is the firm responsible for the design of the center.
Seating platforms in the Romano Theatre can be configured in many different ways depending on the needs of the individual play and director. Significant elements include rolling catwalks to maximize lighting design possibilities and a floor trap that will allow scenic elements to be brought up from the floor below the stage.
The Theatre Department's Romano Theatre offerings - fully-mounted productions, including scenery, costumes and lighting - will be the final results of semester-long academic courses. There will generally be eight performances of each show. The Romano Theatre will also be used as a teaching space, usually in conjunction with productions.
In expressing his vision for the new facility, Romano said, "The new theatre will give more Hamilton students additional opportunity to acquire and practice the art of producing and acting. I would like to see more Hamiltonians give their unique touch to Broadway in the future."
When asked how Hamilton prepared him for his career as a successful entrepreneur, Romano, chairman and founder of Pacemaker Steel and Piping Co., Inc., replied, "Some way, somehow, I came out of Hamilton willing to take on just about any task that came along, with little fear of failing, but with just enough good judgment not to make foolish mistakes. I really didn't think about what my career path would be when I was a student. Neither did I fear going hungry. I think I knew I would be a business owner, but had no clue as to what avenue I would stumble upon." In fact Romano blames Hamilton and the skills he acquired on campus for causing him to be engaged in too many diverse enterprises, keeping him busier than he would be had he undertaken one large endeavor. He says that the College taught him to accurately assess many varied situations and to take whatever action necessary.
In addition to providing support for new arts facilities at Hamilton, Romano established an endowment at the College to offer scholarships and entrepreneurial opportunities for students who wish to stay in Oneida County after graduation. The fund is a reflection of his and his wife Loretta's long-standing commitment to the Mohawk Valley. They believe that an investment in the College will ultimately benefit the entire Utica area. Most recently, Gene and Loretta Romano were recognized for their financial support of the F.E. Romano family radiation-oncology department in the Faxton St. Luke's Healthcare's Regional Cancer Center in Utica.
In recognition of his lifetime example of hard work, service and generosity to Hamilton and the community, the College awarded Romano an honorary Doctorate of Humane Letters in 2007.