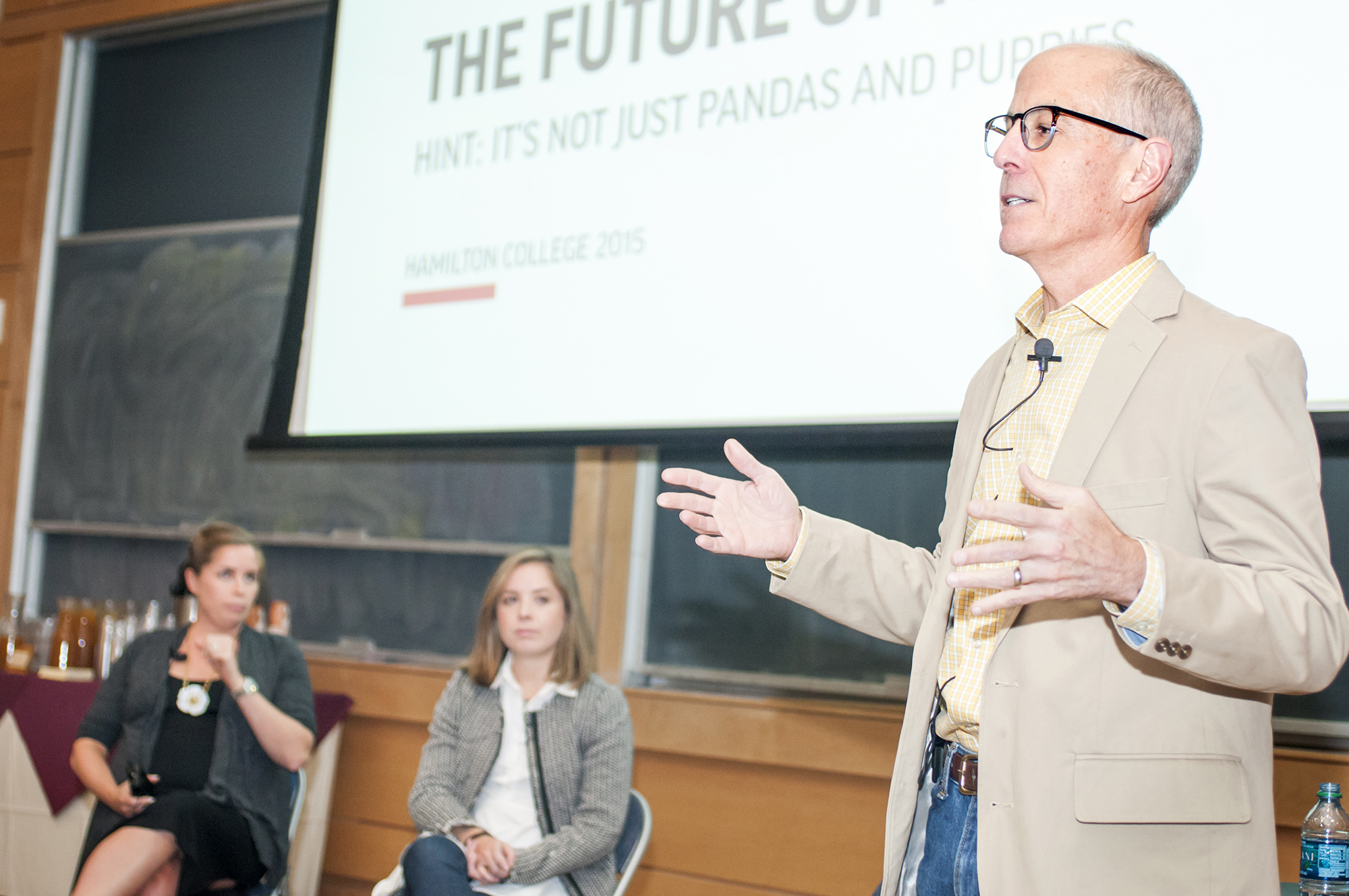 In a session called "The News and Information Future: It's Not All Pandas and Puppies!" one family showed just how much the news media has changed not only between two generations but in the past decade.
The Oct. 29 lecture was the first in a three-part journalism series sponsored by The Spectator student newspaper.
The conversation between Jim Kennedy (senior vice president strategy and enterprise development for the Associated Press) and his daughters Meredith Kennedy '09 and Liz Kennedy '05 centered on the family's careers in the transient media industry.
Meredith Kennedy is the associate booking producer for NBC's Today Show and Liz Kennedy is the director of content strategy and social media for grocery company FreshDirect.
"Strategy is my job, I'm the guy who looks ahead at what's coming but even to me the pace of change is breathtaking," Jim Kennedy said. He said that his daughters prove his point, calling them "case studies of the transformation."
Jim Kennedy began by sharing statistics comparing social media use to newspaper subscriptions and cable news viewing numbers. He said the good news is that media consumption is growing rapidly, and the bad news is that newspaper jobs are caught in a "death spiral of cuts."
"The apocalypse is not at hand," he joked, noting that Millennials keep up with news as much if not more so than previous generations. "I have no fear that you guys are following the news. The challenge is monetizing that to support quality, dependable reporting."
When she was a senior at Hamilton in 2004, Liz Kennedy was fascinated by what was then the brand-new TheFacebook.net. "It was 107 pages on Facebook and both my advisors told me I was reading too much into it," she said. While writing her thesis, she was able to just email Mark Zuckerberg and receive answers directly from him.
After graduating from Hamilton, she attended graduate school at The New School to gain more technical skills and later got a job at the Reader's Digest where she eventually started the publication's Facebook page.
"I never in a million years would have predicted this," she said. "It's a career path. There are very few industries without social media pages now." She now works for Fresh Direct, where she was hired as a "food storyteller." She creates videos and manages social media accounts to capitalize on the fact that "people want to be part of the food conversation and engage with food."
Meredith Kennedy got a journalism degree from Columbia University after graduating from Hamilton. After working freelance, she was hired by the Today Show. Though her path seems more traditional than that of her sister's, she described herself as working in a business that is constantly trying to change.
As a booking producer, she said she must balance hard and soft news. The news-gathering process has changed so much that she often finds and contacts people through Twitter and Facebook.
"One day I might be booking a politician, another day a viral video star," she said. "News isn't just pandas and puppies but sometimes pandas and puppies are the news."
"The same phenomenon that produces pandas and puppies produces real news. Every single day every news organization in the world is chasing what we call 'UGC' or user-generated content," Jim Kennedy said. "Everyone is pursuing pictures and evidence of the news event of the day. It's not going to be too long before that stream of content really becomes the news."
No matter how the industry transforms, Meredith Kennedy said that one thing that's not going to change is the constant need to consume information. She discussed the "race to be first" and adapting stories so they can be fresh the next day when digital companies can post a headline almost immediately. News, she said, has permeated every industry.
"There's always going to be an opportunity for people to make sense of the world," Jim Kennedy said. "Even in a world where every tree that falls makes a sound, there's always going to be an opportunity for people who can make sense of the stories."
For the first 20 years he worked in the news industry, Jim Kennedy said that every job he had was "filling someone else's shoes." Now, he said, it's common to have a job that no one has ever had before or create one's own job title, as is the case for his daughters. "It's far from over it's only at the beginning," he said. "We're at the first couple decades [of the change] and it's got a long way to run."