Kevin Rowe '10 Departs from the Familiar through Watson Fellowship
---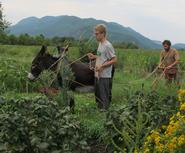 There are countless scholarships, fellowships, prizes, and grants for people who are already good at things to become even better at those same things. The Thomas J. Watson Fellowship is not one of them. On the contrary, the Watson Fellowship provides the license to spend an entire year in unfamiliar places with complete strangers making mistakes and being bad at things.
For me that frequently meant doing things like herding goats, farming fish, teaching kids in India about compost, plowing onion fields with donkeys, making cheese and noodles, attempting to sell produce in foreign languages, guerrilla gardening, or butchering a suckling pig. I'm still surprised that people actually allowed me to do most of these things in spite of my demonstrated lack of qualifications.

In a year full of mishaps I learned just how little I know about the subjects—the food system, cities, and globalization, mostly—that I probably know better than any others. I unlearned a few things I learned studying at Hamilton, but more importantly I learned what I did during my fellowship year in an entirely different way than I was accustomed to after 17 years in school.

My goal was to explore the infrastructure of the food system in some of the world's largest metropolises: how breakfast, lunch, and dinner happen for 35 million people every day in Tokyo, for example. I wanted to think about the food system as a social as well as a functional infrastructure, that is, as something that shapes not just markets and menus, but also attitudes, worldviews, senses of place, history, and nature.

The best way to do this, I decided, was to go and be a farmer, a market vendor, a cook, a grandmother, a food justice activist, and an eater in cities in France, Spain, Cyprus, India, Japan, Chile, and Argentina. I tried and pretended for a whole year, but unsurprisingly I am not any of these, with the exception of the latter, in any of these places. And so it was a whole year of being almost constantly out of place, totally departed from my familiar universe of evidence and analysis and conclusions.

The Watson Fellowship may provide the mandate (not to mention the financial wherewithal) for a year of "failing successfully," as the fellowship's former director described it to me, but the most important lesson I draw from the experience is that you needn't be the recipient of this privilege to depart from your familiar universe and cultivate new ways of learning.
My year proved to me that passion and curiosity are rewarded no matter where you go. The question I repeated most in my travels, 'will you teach me?', brought me on a most unexpected exploration through what I thought I already knew, and it is a question I keep asking even now that my fellowship is over.

Apply for a Watson. Design a project that explores your passion in a way you never thought possible. And then do your project, whether the foundation deems it viable or not. Do it in your hometown, in Utica, or after work after you've graduated. Ask someone to teach you.

For more inspirational stories by Hamilton alums visit the Career Center library.