Kevin Rowe '10 Maps Urban Planning Programs in NYC Neighborhoods
---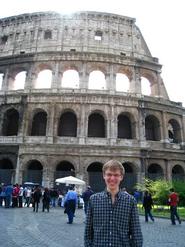 New York City has a historic connection with neighborhoods and community intimacy. It's ironic, because for most people, austere towers and ominous alleys do not give off a welcoming aura. But the five boroughs each have distinct qualities, and even smaller communities within them take pride in what they have assembled out of the masses. However, Kevin Rowe '10 fears that these neighborhoods have surrendered their rights to the organization of their own community. This summer he is researching community-based urban planning programs like West Harlem Environmental Action (WE ACT) and Sustainable South Bronx (SSB) that work to reverse this effect. With Assistant Professor of Government Peter Cannavo, Rowe will attempt to discover how remediating environmental hazards through community planning can create a sense of place and environment justice within a group of people.

Hunt's Point in South Bronx and West Harlem have some of the most highly concentrated environmental hazards in all of New York City, and it is Rowe's goal to find out what role WE ACT and SSB are playing in the community effort to reduce pollution, crime, poverty, and drug abuse.

"They're paradigm cases in urban decay," he said. "There have to be historical, political, and social reasons as to why they are decaying." He mentioned the 20th century structural revolution, depression, and mass immigration that permanently altered the urban landscape. These factors brought about a change in municipal power – now neighborhoods struggle to define the spaces they inhabit and identify common areas in which they can gather. Rowe explains how community-based urban planning groups are assiduously trying to undo the effects of industrialization through the creation of parks and other public places.

"They're developing an empowerment, but more [important] is the planning of public spaces and how that builds a sense of place, [which is] fundamental in any human," he said.

While both WE ACT and SSB have been fairly successful, Rowe acknowledges the existence of tensions between the organizations and the public. When a city plans public spaces, the government merely neglects to account for local particularities. However, when an urban planning program is instituted, people in that community begin to express differing notions of what a community should be or look like. But Rowe finds the theoretical concepts behind these groups interesting. The implications in terms of government, the environment, and social networks might become the basis for his senior thesis.

He is grateful that he received a Levitt Grant so that he could get a head start this summer. The Arthur Levitt Public Affairs Center funds student-faculty research through its Levitt Research Fellows Program, in which students receive a stipend to work with faculty for 10 weeks on a project related to public affairs.

Rowe hopes to become more involved in urban planning after he graduates. For now, though, he keeps busy with his schoolwork and the Hamilton chapter of Democracy Matters, a club devoted to an understanding of democratic ideals.

Rowe is a graduate of East Grand Rapids High School.