Kevin St. John '06 Founds Threadmatcher.com
---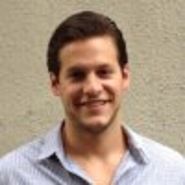 Co-founder of Threadmatcher Inc., Kevin St. John '06 recently received a scholarship to present at the prestigious DEMO conference in Santa Clara, California. The success of the company and their innovative fashion website, Threadmatcher.com, prompted the invitation, followed by coverage in VentureBeat.

Threadmatcher.com allows users to customize their style and be connected with other users and retailers who resemble their style and taste. Users are then able to sort their finds and items into "closets" as well as "thread" new items they find online. "At ThreadMatcher, we want to create the ultimate personalized shopping experience. We want to change the way people shop for clothes online by creating a highly personalized and relevant shopping experience that is a) tailored to each users' individual styles and that b) helps users discover new products and/or brands by following recommendations of people that have similar styles or whose styles they trust," said St. John.
At Hamilton, St. John '06 majored in Economics and was a member of the Men's Lacrosse team, Finance Club and Theta Delta Chi.