Kevin Tutasig '13 Interning with Ecuadorian National Assembly
---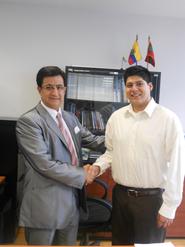 The political climate in many South American countries is difficult to contemplate. Ecuador, for example, must cope with a divided population, a struggling democracy, and a president whose power is steadily -- and perhaps dangerously -- increasing. In an attempt to shed some light on Ecuador's government, Kevin Tutasig '13, a government and Hispanic studies major, will complete a Summer 2011 Levitt Leadership Program Public Service Internship in Quito, Ecuador, with the Ecuadorian National Assembly. The Assembly, or the Legislative Branch of Ecuador, is comprised of 124 assemblymen divided into 10 committees. Their aim is to represent the Ecuadorian public in creating and passing laws.
Ecuador currently faces a tense political climate. After President Rafael Correa took control of Ecuador's judicial branch, he has received disapproval from many assemblymen who used to support him. Though the Ecuadorian public voted democratically to ratify this move, many assemblymen believe that the president is beginning to amass too much power, and that Ecuador may soon face a dictator. Correa is the first Ecuadorian president with both the education and the charisma to effectively sway public opinion, and some politicians believe his influence may hinder Ecuador in its struggle for democracy. Those who hold this opinion mostly belong to the well-educated, elite classes, who believe that Correa's manipulative personality allows his to control the media and religion. On the other hand, the judicial branch is widely recognized as corrupt, and the rest of the population largely supports President Correa. The majority sees his control of the judicial branch as a necessary step toward correcting that sector.
Ecuador has had a difficult time establishing democracy, and Tutasig hopes to learn more about why this is the case. During his time at Hamilton, he studied Communist and Socialist theory, and sees parallels between Marxian ideas and South American politics. Tutasig believes that the lack of a distinct middle class serves to divide the population into working and elite classes, or the bourgeois and the proletariat, and the tension between these provides good grounding for socialism. Over the summer, he hopes to discover more about socialism in South American countries by becoming involved in the Ecuadorian political system.
Tutasig, an Ecuadorian-American, looks forward to learning more about Ecuadorian government and applying the knowledge he has acquired from both his concentrations at Hamilton. He will complete an internship with Assemblyman Dr. Luis Morales Solis, for whom Tutasig will conduct research on various topics. He will also participate in meetings of PRIAN, or Institutional Renewal Party of National Action, and coordinate meetings of the Commission on Citizen Participation and Social Movements in Ecuador. Additionally, Tutasig will travel across Ecuador translating documents from English to Spanish, or vice-versa.
The position seems like a natural fit for Tutasig, who has been passionate about both law and Hispanic studies for some time. At Hamilton, Tutasig pursues his interests as a Judicial Board member and as Spanish Club president. He spent last summer completing an internship for Queens County Family Court. This summer, when not working on his internship he hopes to spend time with his family, climb one of Ecuador's highest peaks, prepare for the LSAT, and travel across Ecuador to learn more about the indigenous cultures there. Upon his return to Hamilton, Tutasig hopes to bring Assemblyman Solis to campus as a speaker. Tutasig has a unique opportunity to become intimately involved in Ecuadorian politics, allowing him to apply the scope of his Hamilton education thus far while gaining new experiences to bring back home.
Kevin Tutasig is a graduate of the High School for Health Professions and Human Services in New York.