Laymon Describes Struggles With Racism in Lecture, Reading
---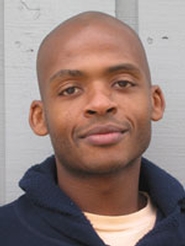 On Sept. 27, members of the Hamilton community gathered in the Events Barn to listen as Kiese Laymon read his essay, "How to Slowly Kill Yourself and Others in America: A Remembrance," an intimate and personal account of Laymon's teenage years growing up in Jackson, Mississippi. The silence was palpable as the audience listened to the tale of Laymon's traumatic past and inspiring message.

An associate professor of English and co-director of Africana studies at Vassar College, Laymon spent most of his life in Jackson, where he attended Millsaps College, a private liberal arts college. Laymon discusses his time at Millsaps in the essay, and outlines the struggles he faced as a black student consistently subjected to racism and violence. He opens by saying that four people have pulled guns on him during his life, and then details each of these encounters and how he was exposed to people who hated him for both his race and his writing.

Laymon delved into his complex relationship with his mother, who, he states, "raised me to never forget [I] was on parole." As Laymon reached the end of his piece, listeners could feel the emotion in his voice while he proclaimed, "I survived long enough to say yes to life."

After lengthy applause, Laymon opened the floor to questions. A student asked what driving passion kept Laymon focused throughout his hardships. In answering he explained that the love he felt from his grandmother and his friends kept him afloat. "I knew she experienced things that were 300 times harder than anything that I was experiencing…and I thought that if I gave up, I just didn't know how to feel about breaking my grandma's heart."
Toward the end of his Q&A, Laymon explained that "How to Slowly Kill Yourself and Others in America: A Remembrance" was the first piece of his writing his grandmother ever read. "It made me feel like all that … happened was for a reason, even though that sounds so cliché," he declared.

Laymon discussed how hard it was to open up and write this essay, because his life between 18 and 21 years old was extremely painful to recollect. He admitted that writing about his more recent battle with cancer was much easier than writing "How to Slowly Kill Yourself."

He concluded expressing that his experience teaching at Vassar is "life-changing and wonderful" and that "student relationships sustain [me]," but admitted that he feels like he needs to wind up back home in Jackson, at Millsaps or Jackson State, because that is where his heart truly lies.