Kinnel Participates in Panel on Role of Research at Liberal Arts Colleges
---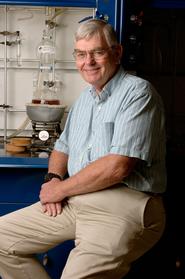 Silas D. Childs Professor of Chemistry Robin Kinnel recently took part in a panel exploring the role of research at primarily undergraduate institutions at Washington College, host of the 43rd meeting of the Middle Atlantic Association of Liberal Arts Chemistry Teachers. Kinnel and his co-panelist, Shaun Murphree (Allegheny College), discussed the experiences of their departments in the significant growth in publications that was described in a recent article in the Journal of Chemical Education.

Citing a recent white paper from the Teagle Foundation published by the American Council of Learned Societies, both panelists vigorously supported the connection between faculty scholarship and teaching, and argued that research informs teaching in important ways. Each institution and/or department, however, must decide on what kind of model works best for the people and resources that are available. Kinnel also attended workshops on teaching chemistry to non-science students and on garnering grants from the National Science Foundation.

Washington College is the alma mater of former Hamilton College Professor of Chemistry Lawrence Yourtee, who was in its class of 1937. Professor Yourtee retired from Hamilton in 1982 and passed away in 1997.