Kirkland College Archives, Media & Publications Subcommittee
---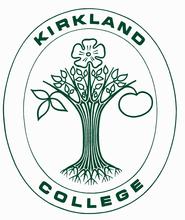 A meeting of the Kirkland Subcommittee for Archives, Media and Publications during Fallcoming made progress planning steps to foster the Kirkland Legacy. These efforts began in October 2008 when members gathered for an initial meeting in Hamilton's Burke Library. Kirkland alumnae were joined by Professors John O'Neill and Maurice Isserman, Mary O'Neill, Hamilton Archivist Katherine Collett, current Hamilton students and other interested staff members. Collett detailed items in the Kirkland Archives and expressed a keen interest in collaborating with us on projects preserving our history.

This summer, a planning session was held in Washington, D.C., where an array of ideas and thoughts were sorted, cultivated and distilled into a strategic plan. Short-term and longer-term projects were identified and brought into sharper focus. Initial web designs are also in process. The off-campus meeting was followed by a second meeting on the Hill Oct. 3, 2009, during Fallcoming. Members of AMP shared the completed strategic plan, displayed proposed web pages for the online exhibit on Kirkland history, and presented an exciting array of ongoing multimedia projects. Hamilton Trustee Susan Skerritt K'77, Committee for Kirkland College chairperson Penny Watras Dana K'78, and Hamilton's Alumni Council President Julie Ross H'84 were among those in attendance expressing enthusiasm for the body of projects. Initial web pages should be posted later this fall, so stay tuned for news flashes on the projects, which are intended to preserve and protect Kirkland College's legacy and culture. Virtual exhibits also allow greater accessibility to the Kirkland Archives while imagery and oral history projects showcase the meaning of our legacy. Proposed virtual exhibits will include such topics as the Celtic-inspired diploma designs later in Kirkland's tenure, our unique college seal and the origin of Kirkland green. Efforts to collect audio and video of interviews with former faculty, alumnae and administrators are also underway, as is creation of a film for release during the Hamilton Bicentennial.

During the publications portion of the AMP session, Jo Pitkin K'78 announced the creation of a Kirkland College literary anthology. Pitkin, who founded the campus literary magazine Red Weather in 1976, will be soliciting submissions of original poetry and prose from alumnae, former faculty, administration, and staff. She said that Kirkland Voices, the alumnae literary reading she organized for the 2007 All-Kirkland Reunion, sparked the idea.

"After I heard all these Kirkland women reading their work, I kept thinking that we had to do a book," she explained. Watch for details about the anthology and the launch of AMP projects at the Kirkland Alumnae site on HOLAC.