Knight's Photos Featured on Wired.com
---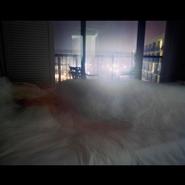 Assistant Professor of Art Robert Knight's photography project Sleepless was featured March 23 on Wired.com. An article titled "Restless Nights Inspire Artist's Spectral Photos" describes Knight's long-exposure photography of peoples' nocturnal movements and features a slideshow of his images.
Knight's own insomnia was the inspiration for the project in which he used his camera to document his sleep disruptions. In the process, he found that his movements throughout the night created a ghost-like image. He expanded the project to create images of family, friends and even strangers.
"Overcoming the technical issues took some persistence," Knight explained in the article. "The camera shutter has to be opened by the subject before they go to sleep and then closed before the sun comes up, otherwise the picture is ruined."
Knight went on to describe how he determined the proper exposure and refined his process. "The appearance and color of the spaces completely transform," he said. "The figure itself becomes a layered apparition very much contradictory to our connotations of 'sleeping like a log,' 'getting a good night's rest' or 'deep sleep.'"
Knight's project was also featured on the PetaPixel blog.