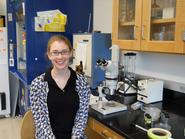 At first glance, butterflies may not seem biologically significant. Though appreciated for their beauty, few realize how important, or threatened, these species can actually be in a particular ecosystem. The Frosted Elfin butterfly, for example, has been listed as endangered or threatened in 11states, yet no federal action has yet been taken to preserve this species.
This summer, Abigale "Abby" Koppa '12, a biology major with a minor in anthropology, will conduct research on the biology of the Frosted Elfin, as well as the various ecological aspects that have to do with its population decline. She will work with Ernest Williams, the Christian A. Johnson Excellence in Teaching Professor of Biology.
The two will conduct research in two major parts. First, Koppa and Williams will compile and analyze data on the Frosted Elfin in the Rome Sand Plains, a natural habitat for this species located within a 30-minute drive from campus. They will look at how weather conditions, such as precipitation and temperature, affect the number of Frosted Elfin larvae that successfully emerge from their pupae each year.
Furthermore, Williams and Koppa will examine a species of ants that eats phloem sap in lupines, a major food source for Frosted Elfins. They hope to find the taxonomy of this ant and assign its genus and species. Knowing more about these ants will further the team's understanding of the different factors that influence Elfin biology. Eventually, Koppa and Williams hope that government offices such as the Department of Environment Conservation will use their findings in creating a management plan for the Frosted Elfins.
The second step of Williams and Koppa's research involves a broader spectrum of butterfly species with regard to reproductive success. They will collect specimens of several species, excluding the rare Frosted Elfin. The team hopes that the butterflies will lay eggs in captivity so that the researchers can examine how egg weights differ by factors such as butterfly age and the point in the season when the eggs are laid.
According to Koppa, there are many causes behind the Frosted Elfin's decline in the Rome Sand Plains. For example, Frosted Elfins only lay their eggs on the Blue Lupine, a plant which requires a lot of sunlight to survive. Recently, the Rome Sand Plains have faced an invasion by white pines. These pines have decreased the amount of sunlight that can reach the ground, and so the Blue Lupine's growth has dropped significantly. Williams' previous research has shown that removal of white pine in the area increases the number of butterflies.
Currently, the team is also performing data analysis collected over the past 12 years on factors such as weather conditions and correlating these factors to the number of butterflies that emerge each year.
Koppa finds the Rome Sand Plains to be a vital ecosystem for several endangered species, and she is dedicated to its preservation. She states, "I feel invested in this place and its native insects and plants." Koppa is enjoying her work with Williams, relating that he is a very supportive and encouraging instructor. She plans to continue studying butterflies with Williams for her senior thesis. Furthermore, she hopes to obtain a PhD in evolutionary biology, and her summer research provides her with the informational foundation she will need in graduate school.
Outside the sphere of biology, Koppa is a Sustainability Coordinator for Hamilton's Recycling Task Force, she participates in Trivia Nights, enjoys power yoga, reading and baking, and she has participated in the America Reads program. Next semester, Koppa will be the TA for Paleontology, a biology-geology cross-listed course at Hamilton.
Koppa is a graduate of Southern Regional High School in Manahawkin, New Jersey.