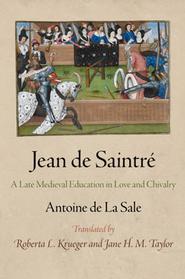 Burgess Professor of French Roberta L . Krueger and Professor Emerita Jane H.M. Taylor (Durham University) have co-translated Antoine de la Sale's fifteenth-century Middle French romance Le Petit Jehan de Saintré, which first appeared in manuscript in 1456.
Published by the University of Pennsylvania Press as Jean de Saintré : A Late Medieval Education in Love and Chivalry, the romance recounts the hero's ascension from young royal page to valiant knight thanks to the intercession of an amorous and wealthy widow, who later betrays him. Considered a precursor to the modern novel, La Sale's text incorporates moral tracts on sin and virtue, advice on hygiene and dress, and elaborate descriptions of heraldry, as well as a distinctly uncourtly ending.
La Sale's book was reprinted several times in the Renaissance, and it circulated widely, in an abridged, popular version, throughout the eighteenth and nineteenth centuries. Krueger and Taylor's translation, which includes an introduction, notes and a glossary, is the first full-length English translation in nearly 100 years.