Krueger Humanities Forum Lecture Rescheduled for March 11
---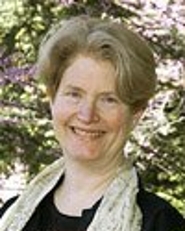 Roberta Krueger, the Burgess Professor of French, will discuss "Piety and Profanity in Medieval French Conduct Books," on Thursday, March 11, at 4:10 p.m., in the Hamilton Science Center's classroom 3024. The lecture was rescheduled from Feb. 25, when it was postponed due to inclement weather. It is the sixth in the Hamilton College Humanities Forum and is free and open to the public.

Krueger has written extensively on medieval French literature, from its beginnings in the writings of Marie de France and Chrétien de Troyes in the 12th century to its transformation in the late Middle Ages in the works of Christine de Pizan, Antoine de la Sale and others.

She also participated in a team project that produced an English translation of the massive 13th century prose Lancelot-Graal. Since 2005, Krueger has served on the editorial board of Speculum, the first scholarly journal devoted to Medieval Studies in North America. Her talk draws from her most recent research project, tentatively titled Fictions of Conduct in Late Medieval France.

From the late twelfth century onward, a vast outpouring of didactic literature in the French vernacular drew upon classical ethics, Christian doctrine, and popular wisdom as it attempted to offer instruction on proper behavior and to instill moral and spiritual values in lay men and women. Many conduct books were compiled in manuscripts containing not only didactic texts but also secular fictions, some of them frankly irreverent, which often seemed to contradict the moralists' teachings.

This talk will examine the intersection of pious and profane values in selected late medieval texts and manuscripts and will suggest that their material, secular representations may have fostered a spirit of critique and helped to shape a new vernacular ethics.

The Humanities Forum is a series of lectures, workshops, and presentations designed to explore the problem of secular humanism in the modern academy. The theme for 2009-11 is "The Secular Gaze: Humanistic Representations of the World." The forum aims to open a discourse on the philosophical foundations of modern secularism and their effects on contemporary society. Organizers hope that these events will celebrate and highlight the humanities both at Hamilton and as an area of teaching, study and contemplation.

The Humanities Forum is sponsored by the Dean of Faculty, the Yordán Lecture Fund, and the Diversity and Social Justice Project.