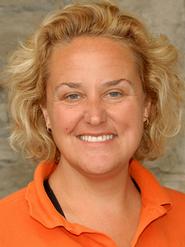 A painting by Katharine Kuharic, the Kevin W. Kennedy Professor of Art, is included in The Armory Show March 5-8 on Piers 92 and 94 on Manhattan's west side.
Kuharic's oil on linen "The Nipple I Never Knew" (2015) is part of the P.P.O.W. Gallery exhibition.
Founded in 1994, The Armory Show features important artwork of the 20th and 21st centuries. This year's show includes the work of artists from nearly 200 galleries around the world.