Kuharic Exhibits Work in Solo Show at P.P.O.W.
---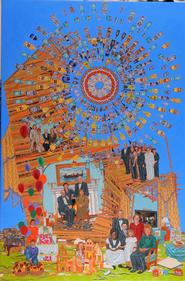 Pound of Flesh, a solo exhibition of works by Kevin W. Kennedy Professor of Art Katharine Kuharic, will be on display Oct. 13 through Nov. 12 at P.P.O.W. in New York City. An opening reception will be held Oct. 13.
The exhibition will explore Kuharic's continuing investigations into consumer culture and how products are marketed and imaged. This new body of work highlights these aspects as well as celebrity culture, both pop and suburban, through detailed drawings and complex painting techniques. Also incorporated into Pound of Flesh is a continuing series of the same name through which Kuharic has been tracking her weight loss and gain through repeated symbols and motif.
During the exhibition, Kuharic will be on site every Saturday painting the grass in a work in progress. The grass overlays the words "Keep Out" and "Peek Out" as an allegory of the exclusion of women in politics and has portraits of all of the U.S. presidents based on a paper placemat from a diner. In addition, she will be painting watercolors that say "Made in America" – these will be sold for $28.40 per hour, the rate that used to be paid to auto workers in Detroit.
P.P.O.W. has represented Kuharic since 1994. Pound of Flesh is her fifth solo exhibition at the gallery, located on 535 West 22nd Street in New York City.