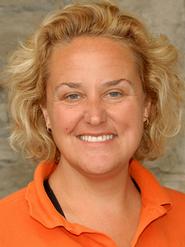 Paintings by Katharine Kuharic, the Kevin W. Kennedy Professor of Art, are featured in exhibitions in St. Louis and Manhattan.
Her work is on display through June 25 in Big Art / Small Scale at the Philip Slein Gallery in St. Louis. According to the exhibition website, the show focuses small-scale painting and "attempts to show the power of visual ideas which the viewer can only appreciate by approaching the work of art, engaging it, and thereby entering into dialogue with it."
Kuharic's work is also included in The Conference of Birds at the Shirley Fiterman Art Center in Manhattan. The exhibition's theme is based on "The Conference of the Birds," a 12th-century poem by the Persian poet Farid ud-Din Attar.
Using the poem as a metaphor for artists' journey of self-discovery, curator Brenda Zlamany said the "metaphor and the rich imagery of birds in the poem are the gravitational glue that brings together a diverse group of artists for this exhibition."
Presented in partnership with the Borough of Manhattan Community College BCMM Foundation, The Conference of Birds continues through July 9.