Kuharic Serves on Venice Biennale Committee
---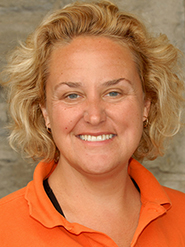 Kevin W. Kennedy Professor of Art Katharine Kuharic recently served on the Art in General Venice Biennale committee and traveled to Venice for the opening of the international art exhibition. The show continues through Nov. 24.
Art In General, a nonprofit organization in New York City, worked with Latvia's KIM? Contemporary Art Centre in co-curating "North by Northeast" for the Biennale's Latvian pavilion. Kuharic said the pavilion was named one of the top international exhibitions.
According to the Biennale website, 88 countries are represented by more 150 artists whose work is on display. In March, Hamilton's Visiting Artist Series will welcome one of those artists, Chilean Alfredo Jaar.