Kuhn '09 Interviewed on WNBC
---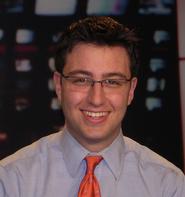 Recent Hamilton graduate Eric Kuhn
took part in a discussion
of the value of social networks in hunting for a job on a June 1 WNBC-TV (New York City) morning broadcast on "Today in New York." Kuhn is also
one of four 2009 college graduates featured
on the professional social networking site LinkedIn in a
YouTube video
that instructs students on how to effectively market themselves online.
During the WNBC interview, Kuhn explained how using LinkedIn had allowed him to connect with a potential employer at a television network. Reviewing his contacts and the employer's contacts, he discovered a mutual friend who was able to provide an introduction. In two days, Kuhn had arranged a meeting with the potential employer.
LinkedIn displayed Kuhn's profile page in its "Grad Guide 2009" story as its lead example among a group of four graduates. His profile is used to demonstrate what "a 100%-complete profile" should include. Hamilton College is prominently placed under Kuhn's name. An accompanying YouTube video examines his page line by line.
While at Hamilton, Eric held internships at NBC, CBS and MSNBC and wrote for
The Huffington Pos
t, mediabistro.com, Hamilton's
Spectator
and
Continental Magazine
and the CBS, NBC and MSNBC Web sites.