Kuhn '09 Named to UWIRE's Top 100 Collegiate Journalists in Nation
---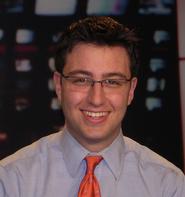 Rising Hamilton senior
Eric Kuhn
has been named a member of the UWIRE 100, a select group of undergraduate and graduate students judged the top collegiate journalists in the country. Chosen from a pool of more than 500 nominations submitted by students and educators at 132 schools, the winners hail from 66 colleges and universities.
According to the UWIRE Web site, "Each honoree of the UWIRE 100 has an impressive journalism record, a proven dedication to journalism ethics and a high potential to excel in his or her future career." Dubbed the "AP wire for college newspapers" by
The New York Times
, UWIRE is the leading provider of student-generated content and publishes more than 500 stories a day.
In her recommendation of Kuhn, Tammy Haddad, former MSNBC vice president and president of Haddad Media, wrote, "Eric's got the brightest future of anyone I've ever met. I really mean it. He is the most creative, young person that came through MSNBC. He gets new media; he gets old media."
Kuhn has held internships at NBC, CBS and MSNBC and has written for
The Huffington Post
, mediabistro.com, Hamilton's
Spectator
and
Continental Magazine
and the CBS, NBC and MSNBC Web sites. He plans to work for CBS this summer in digital media. Quoted on UWIRE's profile of Kuhn, CBSNews.com producer Tony Maciulis wrote, "Eric has demonstrated exceptional creativity and initiative. We welcome his ideas, tech savvy, and energy and have continued to do so well beyond his internship. He is most likely to be a successful multimedia marketing specialist or 2.0 producer for the next generation of television news."
A seven-person UWIRE panel selected the 100 students. Each panel member spent days sorting hundreds of articles, photos and videos to find the best examples of college journalism and to evaluate the nominees.
"Each of these candidates boasts an honor-worthy resume and portfolio, as well as the esteem of colleagues and advisers," wrote Ben French, general manager for UWIRE.
Numerous major news Web sites, including
CBSnews.com
,
CNN.com
,
Editor & Publisher
,
Poynter Online
and
The Chronicle of Higher Education
have featured the announcement of the UWIRE 100. Kuhn was highlighted by
mediabistro.com
.