Kyla Gorman '09 Awarded $10K Scholarship to Study Video Game Design
---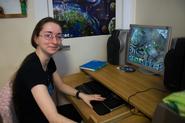 Kyla Gorman '09 has been awarded $10,000 by the Penny Arcade Scholarship Program. Gorman intends to use her money to pursue a degree in game design from The University of Southern California.

Established in 2006, the Penny Arcade Scholarship is an academic grant that recognizes one student with the potential to positively affect the games industry.

Gorman was a computer science major and creative writing minor at Hamilton. She was selected as a 2008-09 Senior Fellow to pursue the publication of a book examining the potential of the video game industry within the academic environment.

"I'll be forever thankful for the opportunity the PA scholarship has given me to attend USC, one of the world's best game design curriculums," Gorman said in a press release.

Penny Arcade is a videogame-themed comic strip produced by Mike Krahulik and Jerry Holkins. The duo have leveraged the success of their strip and popular merchandise into a minor empire, including an annual videogame convention.