L.A.B. Lab Crew Helps Support New Model of the Brain
---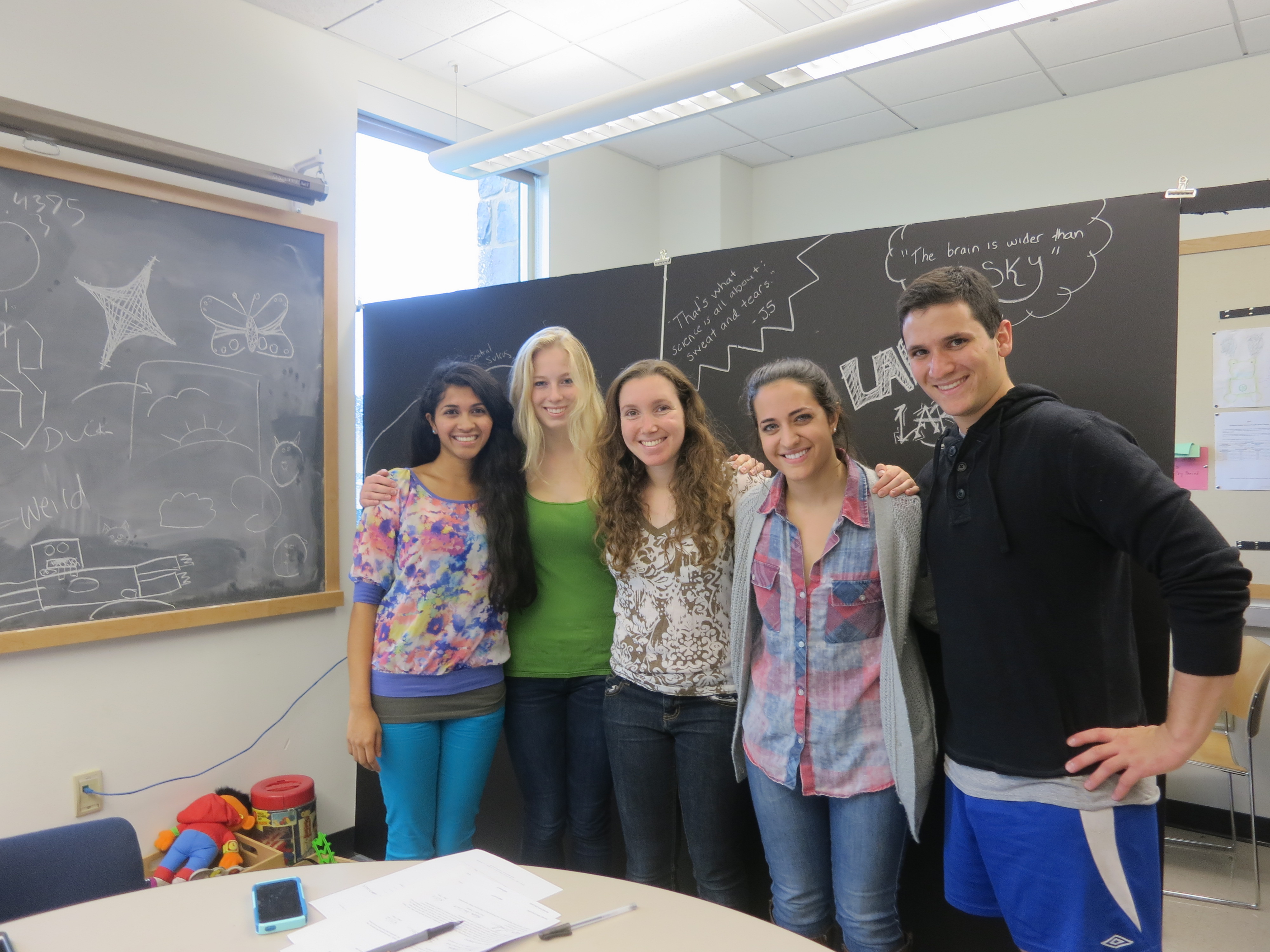 Everyone uses language on a daily basis, but few question exactly how we understand what another person is saying. Interpreting gestures and sounds seems natural to us, yet there is a much deeper and more scientific explanation to it all.
Sandhya Rao '15 and Rebecca Gaines '15 will study speech recognition from a neurological perspective this summer in an attempt to discover how it all works. The two will map participant brains to prove that, contrary to previous thinking, more than just isolated areas of the brain are used for speech recognition and production.
The students have begun their research with Assistant Professor of Psychology Jeremy Skipper, who has a National Institutes of Health (NIH) grant for his research project titled "Neurobiology of Speech Perception in Real-World Contexts."
Traditional thinking behind speech recognition attributes speech comprehension and speech production to very specific regions of the brain. However, the scientific community is increasingly challenging this model. New research is being performed to achieve a more complete understanding of our brain functions.
Sarah Mehrotra '14 and Gretchen Walker '14 are also members of the L.A.B. Lab team. They understand that the brain is much more complicated than earlier models suggest and therefore, were surprised to discover that, according to Walker, "most introductory psychology and neuroscience textbooks still used these old models as a standard."
The team will perform experiments on participants to support a new model of language, which embraces a more fluid idea of recognition and comprehension where the whole brain is used. Participants will be introduced to different stimuli and environments while attached to an Electroencephalography (EEG) machine.
The participants are fitted with a cap containing 256 electrodes. This unit is able to measure the flow of electrical currents in the brain resulting from action potentials, and thus measure brain activity in unique regions. The group hopes to obtain at least 50 participants this summer for new experiments, and is heading toward the completion of older trials.
Hamilton is fortunate to have an EEG machine, as it is unusual for an undergraduate program to have such sophisticated technology. Other labs may utilize functional magnetic resonance imaging (fMRI) machines. According to Mehrotra, "EEGs are particularly accurate in terms of temporal resolution, taking many frequent samples of brain readings whereas fMRIs take longer to read blood flow. The fMRI measures blood flow over timed increments and does not capture a continuous reading of brain activity."
Participants can vary in ages, and Mehrotra is working with children from the ages of 6-12 while other researchers are working with 18-24 year-olds. She believes that including the younger age group is a great opportunity to involve the Clinton community in work that is performed at Hamilton. The children are exposed to scientific research at a young age, and parents can develop relationships with students and faculty.
Rao was in charge of assisting many of the study participants while working with Skipper last year. She became well-acquainted with the EEG machine, and looks forward to increasing her knowledge of the system. She is also anxious to spend more time performing the complicated data analysis with programs such as Brainstorm and MATLAB. She hopes her neuroscience concentration and research background will aid her once she enters the clinical world.
This is Gaines' first year performing scientific research. As a result, she has developed an interest in neuroscience after initially pursuing a psychology concentration.
Gaines warned of the possible difficulties during the data analysis portion of the project. Many hours may be devoted to perform very specific processes before an error is detected, and the whole procedure must then be repeated. Gaines knows that this familiarity with trials will serve her well during graduate school.
Walker also noted that the EEG cap must be placed precisely on the center of the head in order to receive accurate results. If it is placed even a few millimeters off in one direction or the other, the readings from the electrodes will be misinterpreted. The group must take extra caution when fitting someone with a cap, and factors like thick hair can become troublesome.
One component of the research that Mehrotra is most interested in is the stimuli they are creating. By recording the voice of Noah Levinson '14, they're generating individual sound clips of common words, and plan to use them in future experiments.
The students consider themselves fortunate to be exposed to high level research, contributing to a study from its earliest stages through to completion.
Sandhya Rao is a graduate of The Academy of Allied Health and Science (N.J.). Rebecca Gaines is a graduate of Blind Brook High School (N.Y.). Walker is a graduate of the Sidwell Friends School (DC) and Mehrotra is a graduate of Hopkins School (Conn.).