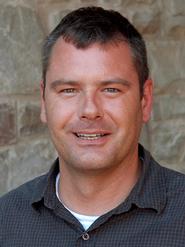 Associate Professor of Anthropology Chaise LaDousa, currently on sabbatical in India, recently led two seminars on his book Hindi Is Our Ground, English Is Our Sky: Education, Language, and Social Class in Contemporary India.
The seminars were at the Zakir Husain Centre for Educational Studies at Jawaharlal Nehru University and at South Asian University, both in New Delhi, on Sept. 23 and 24, respectively. LaDousa was invited to return to the Zakir Husain Centre for Educational Studies later this fall to teach a module on ethnographic methods in social science research.
Currently residing in New Delhi, LaDousa is visiting former field sites on which the book is based. He also plans to spend time in Varanasi, a city he has lived and worked in since beginning research on language and education in India in 1994.
His other activities will include the presentation of a lecture about the book at the Indian Institute of Technology in Patna and additional seminars at the University of Delhi and Ashoka University.
LaDousa said that it is "extremely gratifying…to find that the book has captured the interest of many people and academic institutions -- among the most prominent in the country for the social study of education -- in India."