Lambda Pi Eta Inducts Seven New Members
---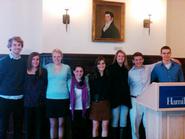 Seven students were inducted into Lambda Pi Eta, the national communication honor society, on Oct. 31, at a brunch that included faculty, students, and families. The new members are Lauren DiGregoria '11, Daniel Hagemeier '11, Greg Kreitzer '11, Ephraim McDowell '12, Kate Northway '11, Perry Ryan '12 and Elsie Swank '11. They join current member and chapter president Sarah Goodell '11. In addition, Northway was elected vice president and Swank was chosen as secretary.
Communication alumnus Josh Huling '05 gave the keynote address. Huling, also recognized by Lambda Pi Eta when he was a student at Hamilton, is currently a brand leader at Doner Advertising in Michigan. The event was organized and sponsored by chapter advisor and visiting assistant professor of communication Cheryl Casey.
The mission of the Lambda Pi Eta, according to the society's constitution, are to recognize, foster, and reward outstanding scholastic achievement; to stimulate interest in the field of communication; to provide an opportunity to discuss and exchange ideas in the field of communication; to promote and encourage professional development among communication majors; to establish and maintain close relationships and mutual understanding between faculty and students; and to explore options for further graduate education.