Latrell Conducts Research in Bali
---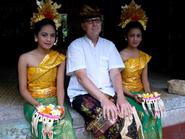 Professor of Theatre Craig Latrell recently completed a month-long trip to Bali where he conducted research on destination weddings as intercultural performances. He observed the wedding of a Ukranian couple in a Balinese ceremony, and visited numerous wedding chapels, hotels, wedding coordinators, and an elephant park where it is possible to arrange a post-ceremony elephant ride through a village.

Some of the questions he is investigating are: What is it that couples are searching for in these performances, and are their expectations fulfilled? What does it mean to get married in an exotic location, or to adopt the customs and costumes of another country? How are elements chosen for inclusion or exclusion in invented ceremonies? For Westerners seeking the exotic experience, how close are these "native" ceremonies to actual native weddings? How is formal theatre/dance incorporated into these events?

This research is funded by the Dean of Faculty office.