Laura DeFrank '10 Searches for Clues to Bronze Age
---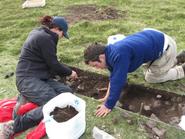 Laura DeFrank '10 never thought she would take a science course after high school. In fact, most of her college search centered on schools that would exempt her from that requirement. As a sophomore at Hamilton, she took Assistant Professor of Anthropology Nathan Goodale's Principles of Archaeology class, only intending to count it toward her anthropology major. But she enjoyed the class more than she expected, and her attitude toward science courses changed. "I guess I just never found the right one until now," she said.

After that, she took Goodale's Analytic Methods course, which covered lithic analysis, or the observation of stone tools or other chipped artifacts.

"During that semester I realized that I had found a subject that I had a real passion for and I would be crazy to ignore the gut instinct to keep going," she recalls.

This summer, DeFrank is working on the Cultural Landscapes of the Irish Coast (CLIC) Heritage Project, run by Assistant Professor of Anthropology Nathan Goodale and Ian Kujit of the University of Notre Dame. It is in its third of five anticipated years of interdisciplinary study and employs archaeology, paleoenvironmental studies, history, linguistics, photographic research, and ethnography to explore the changing rural coastal life ways in Western Ireland. The CLIC project has shown interest in the extent of human occupation of these areas and is attempting to fill in some of the archaeological record there.

In particular, DeFrank is excavating the land in search of remnants of the Bronze Age. She says she has been interested in this time period since she took Professor of Archaeology Charlotte Beck's class on prehistory. But the act of studying in Café Opus, notebook and chai latte at hand, is completely different from that of weathering the coastal climate and trudging across stone and boulder.

"Reading about survey and excavation is way less exciting and challenging than actually doing it, for obvious reasons," DeFrank said. "A textbook can't describe 10-hour digging days because you only have so much time to do excavation, or trying to identify hut circles in almost blinding wind and rain."

The principal goal of her research this summer is to determine whether or not the hut circles she describes are from the Bronze Age. She and other researchers examined the islands of Inis Airc and Inishbofin, and the small town of Clifden. Following each day of field work, they added more to their artifact and soil sample database. They are also awaiting results from the radiocarbon dating of some charcoal they found.

However, sediments and stone cannot look you in the eye and tell you their story.

"Although I love prehistory, actually being able to interact with some of the people who lived on Shark almost 50 years ago is something I won't soon forget," DeFrank said. "And that's really what archaeology and anthropology are about – the people." She remembers meeting a woman who was born in the city of Galway and was back from Virginia to visit her homeland. She expressed to the research team how grateful she was that she had a chance to learn more about her country's archaeology.

DeFrank also expresses her thanks to Goodale for encouraging her to study archaeology.

"He's really smart and has challenged me to think from day one," she said. "I've probably worked harder for his Method and Theory class than for any class I've taken at Hamilton, and it was a hands-down phenomenal class."

After Hamilton, DeFrank plans to go to graduate school for archaeology, and then work her way up to a doctorate. Moreover, she wants to earn a second doctorate in classics. Because the eight or more years of education after undergraduate school will be intense, she is doing as many fun things on campus as possible. She has served as a teaching assistant for Greek and Latin classes, and is a disc jockey for Hamilton's radio station. She was also the art director for The Continental for the past two years and has risen to the title of managing editor starting in the fall. She considers herself very lucky to be doing research with a professor this summer.

"My favorite part, as cheesy as it sounds, is that I got to do it at all."

DeFrank is a graduate of Hershey High School.