Lauren Duncan '10 Gives the Climbing Wall a Hand
---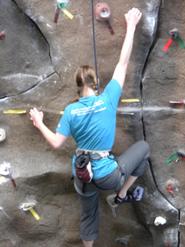 For outdoor enthusiasts, few things are as appealing and exciting as biking, hiking and rock climbing. All three of these require physical strength and substantial amounts of movement. But on the Bruce Climbing Wall in Hamilton's Blood Fitness Center, climbers are lent a helping hand—literally. In conjunction with Art 307, Advanced 3D and Material Studies, under Assistant Professor of Art Rebecca Murtaugh, environmental studies major Lauren Duncan '10 created hand-shaped climbing wall holds that are not only artistic and significant, but also functional. She calls her project "LED by hand."

In many ways, this project was the perfect culmination and synthesis of Duncan's passions, and of her Hamilton experience. To create the molds for the polyurethane resin holds, Duncan needed some volunteers. The 23 obliging models she used were Hamilton climbers like herself, her best friends and her family. After allowing the gooey alginate to solidify for 10 minutes around the models' hands, Duncan had an exact replica of each person's hand—down to the fingerprints, literally crystallizing Duncan's closest relationships at this time of her life. After sanding and drilling holes into the casts, the hands were ready for installation in the climbing wall, materializing her love for both climbing and sculpture.

But mostly it is the community nature of her project that makes Duncan swell with pride. "This project was a way for me to tell my friends and family how much I appreciate them and a way for me to leave a legacy at Hamilton," she said. "My sculptures tend to be both permanent, because they are physically tangible, and temporary, because they are done in one performance." Duncan sees her sculpture as able to challenge climbers to follow that path up the climbing wall, but to also help them reach new heights, both literally and metaphorically.

The philanthropic nature of this project also reflects Duncan's deeper concern for the wellbeing of others. This summer she is working as an Outpost Assistant at Camp Manito-wish YMCA in Boulder Junction, Wisc. She will prepare more than 200 high school students for their treks into the wilderness, ranging from just over a week to a month and a half. "I love it because I get to make a positive impact upon a large number of youth, and I get to help them grow, develop and become leaders," Duncan said. In the fall she will begin pursuing her post-graduate career in experiential education for middle and high school students.