Lauren Perillo '10 Studies Friendly Societies as Predecessors to Women's Organizations
---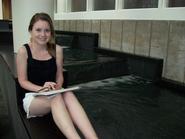 Women stick together in hard times. During World War II they lifted one another's spirits when their husbands left for the battlefield. Organizations like NOW (National Organization for Women) have constructed alliances that combat forces deterring women's rights. Even female textile workers as early as two centuries ago formed supportive and cooperative groups. These social groups were known as British friendly societies, and they provided mutual aid to women in the era of the rise of the British welfare state. Lauren Perillo '10 is working on a Levitt-funded project with Associate Professor of History Lisa Trivedi to examine the advantages of friendly societies to women who needed more financial assistance.

The New Poor Law of 1834, which was executed to bring about poverty relief in the United Kingdom, did not do much in the way of helping women. Women workers instead sought aid through membership in private friendly societies. Each member paid a small monthly fee in the expectation that she would be compensated for medical or funeral expenses later. Perillo is investigating whether or not these local institutions distributed more assistance to lower class women than the government did. Were state-run programs at all effective? How much money did women actually receive after pooling their resources? Her ultimate goal is to answer these questions and then look at how prevalent the friendly societies were in a given community and how they changed over time.

This leads to a social analysis of the friendly societies. The organization and rules of these provincial groups spoke prolifically of a newfound social lifestyle. Monthly meetings were often held at pubs, and they became anticipated community events. "The working class formed these networks for themselves," Perillo explained. "It's social interaction with a really practical function."

But in the later 19th century, the social aspects of the societies were replaced with a focus on financial benefits. Mutual aid became strictly business, and women received their benefits through the mail. Perillo is studying this loss of intimacy as she peruses the Lancashire Public Records Office, where every member of a friendly society was required to register.

The Arthur Levitt Public Affairs Center is funding her research through the Levitt Research Fellows Program. Application for a Levitt Grant is open to all students who wish to spend the summer working in collaboration with a faculty member on an issue related to public affairs.

As a history major and Writing Center tutor, Perillo is prepared for the extensive papers she will have to write if she attends graduate school for history. She recently did archival work and research with Trivedi in Manchester, and because she enjoyed the experience, Perillo is considering a career in archive management.