Leah Krause '14 is Co-Pi on Successful NSF Supercomputing Grant
---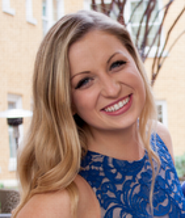 Senior Chemistry concentrator Leah Krause is a co-Principal Investigator on a successful proposal through the National Science Foundation's Extreme Science and Engineering Discovery Environment (XSEDE) program. Acceptance of her proposal grants Krause 100,000 hours of computational time on the Texas Advanced Computing Center's "Stampede" supercomputer, currently the 6th fastest supercomputer in the world.
The computer time will be used during her senior thesis supervised by Assistant Professor of Chemistry Adam Van Wynsberghe. The work is also in collaboration with the laboratory of Rommie Amaro from the University of California, San Diego where Krause worked during the past summer as a Clare Boothe Luce Scholar.
Krause's proposal, titled "A Study of Sialic Acid-Neuraminidase Binding Events through MM/PBSA Free-Energy Calculations," focuses on understanding the binding pathways and kinetics of neuraminidase, a protein found on the surface of the influenza virus, with its small molecule substrate, sialic acid.
Notably, Krause was listed as the co-Principal Investigator of the grant, a prestigious achievement for an undergraduate scientist, because of her major contributions to the proposal.
Krause independently identified the program as appropriate for her senior thesis work, wrote the proposal, and assisted in its submission. Van Wynsberghe is listed as the Principal Investigator (PI) of the grant because NSF policies do not allow undergraduates to serve as PIs.