Lecture Addresses Question: Is America Obsessed With Beauty?
---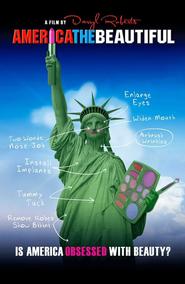 Does America have an unhealthy obsession with beauty? Darryl Roberts thinks so. Roberts' documentary, America the Beautiful, imagines the causes and social implications of the unrealistic physical ideals presented for women in the American media. On Feb. 3, Hamilton students had the privilege of attending a screening of America the Beautiful, which was followed by a Q&A session with the filmmaker himself.

America the Beautiful loosely follows the story of Gerren Taylor, a 12-year-old schoolgirl-turned model whose rollercoaster ride from obscurity to supermodel to "not good enough" sheds light on the unrealistic demands of the world's foremost modeling companies.

Gerren begins as a physically-mature, 6-foot tall, 12-year-old who's encouraged to model by her overbearing mother, a former model herself. Gerren, a victim of low self esteem from years of being heckled for her height, becomes a hit in the runway modeling industry (fashion designers extol her "innocent" charm) and soon finds herself booking fashion shows in Los Angeles and New York City. Gerren boasts a newfound confidence from all the glamour and exposure, but her modeling begins to take a toll on her academic life as her teachers notice profound changes in her attitude. Under pressure from her principal to sign a "behavioral contract," Gerren transfers to a different high school.

When Gerren turns 14, the same designers whom she worked for in the past will no longer hire her. Frustrated and determined that her daughter has a career, Gerren's mother pulls her out of school and begins homeschooling, hoping that the extra flexibility will allow for more travel. The Taylors travel to Europe to try to find Gerren a runway job, but Gerren, now 15, is told by several modeling agencies that as a 6-foot tall size four, she is "obese." In the last scene with Gerren, she is seen resigning herself to the sad fact that she is ugly. Her three-year ride with the modeling industry over, Gerren is worse off than she was to begin with.

Gerren's story is interspersed with investigative reports into other facets of American culture that feed into the beauty issue. Roberts spends time discussing how America has been scammed by plastic surgeons, different toxins hushed up by the cosmetics industry, and the Web site beautifulpeople.net, a social networking tool where users are either accepted or denied based on their aesthetic appeal. Roberts also interviews the editors of several high profile fashion magazines, who generally defend their actions by arguing that they are just trying to make money, and they will do that whichever way is most efficient.

Roberts fielded questions for 20 minutes following the end of the film. Student questions showed genuine concern and a willingness to take action. "What can we do about this problem?" one student asked. Roberts emphasized that while it would be nice to hope that corporations could operate with some sort of social justice in mind, complacency on the part of the public will never get us anywhere. Some people, he said, after seeing his documentary have made the decision to cancel their plastic surgeries and buy more natural cosmetic products or boycott certain fashion magazines completely. Although sometimes it can seem a hopeless uphill battle, "we as consumers have the power," he said.