Lee '13 Examines Influence of Folktales in Russian Culture and Politics
---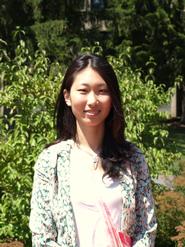 Grace Lee '13 first became interested in Russia while taking a world politics course during her sophomore year of high school. She wanted to continue her studies on Russia beyond the scope of politics, and when she found out that her high school didn't offer any further classes on the subject, Lee decided to learn the Russian alphabet during her free time. She enrolled in Russian studies courses as soon as she arrived at Hamilton, and according to Lee's project advisor, Associate Professor of German and Russian Language and Literature Frank Sciacca, she "immediately proved to be a remarkably engaged student – always at the top of her cohort."

Lee spent the past year studying in St. Petersburg where she was surprised by the prevalence of Russian folklore symbols even in the busy city. She decided to pursue a research project on the interplay between Russian folktales, culture and politics with the support of an Emerson Foundation Summer Research Grant.

Although Lee has studied Russian extensively over the past three years, most of her reading of Russian literature has been confined to Russian political, academic and classical works. She was therefore excited at the prospect of not only designing her own research project, but also having the chance to read fictional Russian literature. Lee chose to study Russian culture through the lens of folktales because her past academic pursuits had given her an understanding of Russian demographics and politics, but not of Russian life.

Lee began her research process by reading of dozens of Russian folktales from some of the country's most famous authors, including Vladimir Voinovich (the author of Ivan Chonkin), Ilya Yefimovich and Andrei Sinyavsky. She also read and watched visual renditions of Soviet era folktales in search of either political satire or government propaganda. She further studied the frequent use of folktale elements in modern-day Russian life, including their use in restaurant and business names and children's toys.

The next step in her process was to document the transition of Russian folktales from purely oral stories to early written works and complete anthologies. She noted that Russian storytellers only began to write down their work in the late 18th and early 19th centuries whereas most Western fairytales were recorded up to a century earlier. She also noted that while Russian folklore shares many plot and character similarities with that of Western countries, it tends to be darker and often illustrates the quintessentially Russian theme that "life goes on" despite inevitable hardships.

While studying modern renditions of Russian folktales, Lee noted that politics was often worked into original stories. The Soviet-era cartoon rendition of one popular Ivan the Fool folktale, for example, portrayed the original character of a bumbling king as a greedy capitalist. Voinovich authored his Ivan Chonkin folktales during the same era and include anti-soviet satirical stances which resulted in his expulsion from the country.

Based on her examination of classical and Soviet-era Russian folktales, Lee determined that the influence of Russian this literature is politically and culturally significant even to this day. From the frequent use of folklore elements in political satire to the modern day prevalence of folklore elements in Russian society, folktales portray Russian culture as traditional and enduring.
Lee is a graduate of Radnor High School (Pa.)