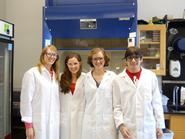 The formation of a synapse, the junction between nerve cells, is one of the most the most important and critical stages of nervous system development, and in many cases improper synapse formation is the underlying cause of neurological disease. Professor of Biology Herm Lehman's lab has discovered a new gene that appears to encode an enzyme that is expressed as synapses develop in invertebrate and vertebrate nervous systems. This summer Agne Jakubauskaite '13, Emily Tangren '14, Luis Santos '14 and Sarah Weatherall '12 are working to synthesize four different enzymes to explore the function of this novel gene product. The students' research is funded by the Dean of Faculty's Office.
The group's goal is to start with the four genes that code for the four enzymes and successfully insert each gene into a plasmid DNA molecule and transfect an insect cell. The gene is translated into the protein that will build each enzyme. In short, they hope that their respective genes will be successfully taken up a foreign cell and translated into the appropriate enzyme. These experiments will pave the way for further study of the enzyme itself.
Each group member is researching one specific gene. Jakubauskaite and Santos are working with the two genes found in humans: Jukabauskaite with the monooxygenase X (MOXD1) gene and Santos with the dopamine beta-hydroxylase (DBH) gene. Weatherall and Tangren are working to express two similar genes in fruit flies; Weatherall with tyramine beta hydroxylase (TBh), while Tangren is working with the tyramine beta-hydroxylase related (TBhR) gene. Despite the two very different species that the genes belong to, all four enzymes that the genes code for are similar, and all are found in the central nervous system.
To carry out experiments, the team is using the bacteria E. coli. They are targeting a plasmid in the bacteria, or a circular piece of DNA that exists outside of, and can replicate separately from, the main bacterial genome. By implanting their respective genes into these plasmids, the group hopes to observe the gene multiplying along with the bacteria, giving them much more material to work with. They will then use the material to transfect, or transfer, the DNA to an insect cell that will, in turn, synthesize the protein.
While the group looks forward to completing this research opportunity, the four students relate that the project is a slow process. Tangren, a biology major, explains that for each step in their research, there are many "checkpoints," and it can be difficult to see if things are progressing as expected. Jakubauskaite adds that at times, the project can even be frustrating, as there is little room for error and small mistakes can go unnoticed for hours.
On the other hand, the group members enjoy exploring this particular field in biology. Learning more about these enzymes and protein synthesis can have important implications for the future. Santos, who hopes to pursue a biochemistry major, explains, "Imagine if we could understand the brain like we understand computers, and we could manipulate how it works." Furthermore, Weatherall, a biology and Hispanic studies double-major, calls their project an "exciting area of research" because there is still much to be discovered about protein expression.
Outside the lab, Weatherall is a TA in both biology and Hispanic studies, a member of Students for International Health Awareness, and she participates in Hamilton's Study Buddies Program. Jakubauskaite, a biology major, enjoys a variety of recreational sports. Tangren is part of the debate team and she plays the cello. Santos is president of the chess club, and is part of the gaming and anime clubs.
The study of gene expression can be applied to many areas of biology. Through their research, Jakubauskaite, Weatherall, Tangren and Santos further their understanding of this exciting and expanding field.
Agne Jakubauskaite is a graduate of Panevezio Sauleterio Secondary School in Panevezys, Lithuania; Luis Santos graduatd from the School for Advanced Studies in Miami, Fla.; Emily Tangren is a graduate of the International School of Minnesota; and Sarah Weatherall graduated from Wellesley High School (Massachusetts).